Videos
Twitter Is Going Gaga Over Indian Army Jawans' Viral #PawriHoRahiHai Version, Calls It The Best
The Internet has given us many hilarious moments and there are some very talented artists who have discovered the art of making simple things look very funny which make us go ROFL. One such artist is Yashraj Mukhate who came into limelight after Gopi Bahu's mash up "Rasode mein kaun tha" and then he created Shehnaz Gill's "Sadda Kutta Kutta.. Tuada Kutta Tommy" which was also loved a lot by the online users. Since then, he has given many reasons to laugh and the most recent one is #PawriHoRahiHai.
#PawriHoRahiHai is getting viral and not just the common public but many Bollywood celebs such as Randeep Hooda, Shahid Kapoor, etc. have come up with their own versions also. However, the best one has been shared by the IAS Officer Awanish Sharan.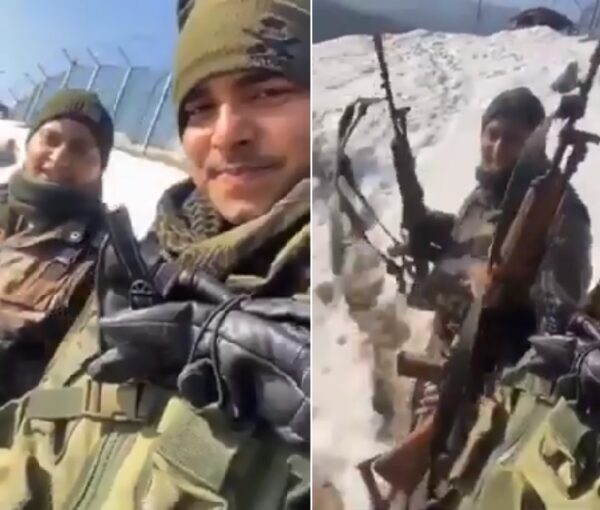 Awanish Sharan took to the micro-blogging site Twitter and shared a video in which two Indian army soldiers are seen in a snow-clad area with their gun and one of them says, "Yeh hum hain, yeh humari gun hai, aur yaha patrolling ho rahi hai!"
Awanish Sharan captioned the video, "Best #yehumhain so far" with the heart emoji.
Best #yehumhain so far.❤️ pic.twitter.com/pVaX4iqv9D

— Awanish Sharan (@AwanishSharan) February 18, 2021
Click here to watch this video directly on Twitter
Soon Twitter was flooded with reactions as people loved the video and called it the best pawri version ever. Check out some of the selected tweets:
#1
Must be ,,,,,, yeh hum hai ,,,yeh hmaari gun hai ,,,,,, our yeh hum Pakistan ko uski aukaat dikha rhe hai 😆

— Shiv Bhakt (@ShivBha10215238) February 18, 2021
#2
#yehumhain
Ye hamari Army He
Aur Aapke Kaaran Hum Safe He 🙏
Thousand Salute to INDIAN ARMY 🇮🇳🙏

— Pratixa Patel (@Pratixa43236067) February 19, 2021
#3
Better then original,
Ye hum hai, ye humari gun hai aur yaha dushmano ki dhulai ho rahi hai.

— Udbhav Singh (@UdbhavS11536271) February 21, 2021
#4
Best best 😍😍❣️
Ab tak ka sabse badiya trend use hua 😍

— Garv Kori (@GarvKoli) February 18, 2021
#5
आप जैसे जवानों के पेट्रोलिंग में दम है…
इसलिए देश में सुरक्षित हम हैं ll#सैल्यूट 👨‍✈️

🙏 #जयगुरुदेव 🙏

— LOMASH CHANDRAKAR (@lomashgautam99) February 18, 2021
#6
— Poornima Sen (@PoornimaSen5) February 20, 2021
#7
Ye hum hai, ye Hamari Army hai aur Ye Hai, to Hum Pawri karte hai…#PawriHoRahiHai best so far ❤️

— Daxesh Jariwala (@dax_burnzu) February 21, 2021
#8
This is the best #PawriHoRahiHai without this #Pawri no Indian can sleep soundly. Salute to Indian army. Jai hind sir.

— Ranu soni (@rranu25) February 21, 2021
#9
This is the best version that I have ever seen

— Nishaanth Vikram (@NishaanthVikram) February 21, 2021
#10
Best PAWRI hai 🙂 Indian Defense forces are the best 👌Jai Hind

— Mukesh Nauhria (@mnauhria) February 21, 2021
#11
Feeling to be an indian, specially for these real hero…Who are petroling in adverse circumstances… Despite they enjoying there lives.❤️ Salute them..🇮🇳

— Mahamudul Hasan (@mahamudul182) February 18, 2021
The trend started after a Pakistani influencer Dananeer Mobeen posted a video in which she was seen saying, "Ye humari car hai, ye hum hain aur ye hamari pawri ho rhi hai".
She captioned the video, "No one: When borgors visit northern areas: yeh hamari pawri horai haai- This is the gold content you guys signed up for. 10/10 meme material"
The 19-yr old used borgers for burgers and pawri simply means party.
Here is the original video:
Salute to the Indian soldiers who know to smile even in the toughest situations! They are enjoying every moment of their lives while patrolling in such difficult and adverse conditions.
Grand salute to Indian Jawans!
Share Your Views In Comments Below