News
Twitter Posts Pics Of Potholes Worldwide After Guy Says Damaged Road Is Found Only In Britain
Every year many people lose their lives due to road accidents and what is more hurtful is that these accidents can be avoided if drivers follow the safety rules properly. However, another big reason of road accidents is bad condition of roads and while we Indians keep on ranting against the authorities for poor conditions of roads which damage further when it rains, this problem persists in other countries as well.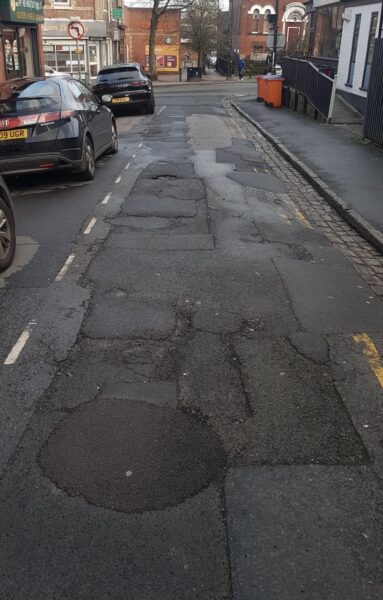 Recently, an online user from United Kingdom posted a photo of a damaged road which was fixed by the authorities by using tar and gravel as a result of which the road had patches of both the components.
The pic was captioned with, "Only in Britain would a road look like this."
Only in Britain would a road look like this. pic.twitter.com/hIfTdaXlCq

— No Context Brits (@NoContextBrits) July 17, 2021
Soon people from other countries such as India, Pakistan, Uganda, Thailand, America, South Africa, etc. also started sharing photos depicting the bad condition of the roads in different parts of the world.
Here are the reactions:
#1
There's a place called Karachi. pic.twitter.com/vRzYfFOnUV

— Faizan Lakhani (@faizanlakhani) July 17, 2021
#2
*laughs in Thailand*
Atleast you can drive on yours, mate pic.twitter.com/foDZBxoPmR

— Nootnoot (@Thailand_Coo) July 17, 2021
#3
You've not seen Uganda potholes . pic.twitter.com/HDqSLqm7Ie

— Keem96🥤 (@Keem961) July 17, 2021
#4
Yeah not enough of the Southern United States is represented in this post lest we forget New Orleans' famous potholes pic.twitter.com/0SV5otl2sH

— Kay🏠 (@KindaHouse) July 17, 2021
#5
This is Akute in Ogun State Nigeria. Levels pic.twitter.com/HFMSMisa4W

— Lola Okunrin (@lollypeezle) July 17, 2021
#6
Indonesia bro pic.twitter.com/v4q6emAd4f

— Adhitia Rachman (@adhibroke) July 19, 2021
#7
*laughs in Jakarta, Indonesia roads* pic.twitter.com/3ugXTTov4J

— fx. gayu 🗿 (@ambassad0rzz) July 17, 2021
#8
At least they try to patch it up. Meanwhile here in India.. pic.twitter.com/KLWoBJOtfO

— Dillan (@Dillan_Dsouza23) July 17, 2021
#9
Meanwhile in South Africa 🇿🇦 pic.twitter.com/fgEOjkpr71

— Mr Smeg (@MichaelBucwa) July 17, 2021
#10
you would really like uruguay huh pic.twitter.com/IbjnJ4FcMk

— lina (@lemon_sucking) July 17, 2021
#11
Congolese roads before and after. 👍🏾 pic.twitter.com/PjGKf9wn4B

— Njonjo Ndehi (@njonjo_ndehi) July 17, 2021
After looking at these tweets, we can console ourselves that people from other countries are also facing the same problem and we are not the only ones who are trying to find roads between the potholes.
The good part is that things are getting a little better with time and the authorities are getting serious towards providing the citizens with better roads but still a lot remains to be done in this regard.