Humour
Twitter Sparks With A Hilarious Meme Fest As Nirmala Sitharaman Presents Union Budget 2022-23
Every year people eagerly wait for budget in order to see whether the government will give them any benefits by starting a new scheme or making changes in the existing one or not. This is that day of the year when you will get to hear only about budget on news channels and how it will be beneficial or non-beneficial for various sections of the society. Every news channel will have at least one economist in their panel of guests who will use jargons to state his opinion about budget in order to tell what he feels about it.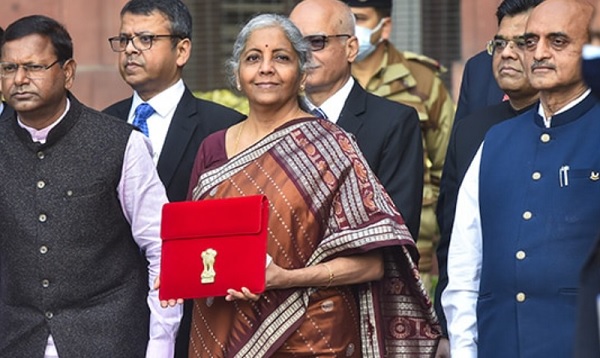 Many businessmen will also took to the micro-blogging site Twitter and tell whether this budget will be good for the industry and economy, though, most of them will try to give a balanced view as no businessman wants to get listed in the bad books of the government. As far as the politicians are concerned, the members of the ruling party will call it a revolutionary or the future-oriented budget of the poor while the opposition will call it a budget against the poor/farmers/weaker sections of the society, etc.
Now let's talk about the major segment of the Indian population – the middle class, the common people or mango people as the young generation likes to call. The middle class is mostly concerned about what is getting cheaper or what is getting costlier along with the tax slabs and they are not much concerned about the other aspects of budget.
Today, the Indian finance minister Nirmala Sitharaman is presenting the Union Budget 2022-23 starting 11 am and the social media users have flooded the platforms with budget memes.
Here are some of the selected memes:
#1
Middle Class watching the Budget only for Income Tax Slab announcement. pic.twitter.com/kWNZvSwWAH

— Trendulkar (@Trendulkar) February 1, 2022
#2
Government in budget to middle class & poor people : pic.twitter.com/MGl6LJFUh1

— A A Y U S H I🥀 (@iyouseeee) February 1, 2022
#3
Meanwhile salaried taxpayers waiting for new tax regime!#NirmalaSitharaman #Budget2022 #EconomicSurvey #BudgetSession2022 pic.twitter.com/JFOcEIrVjv

— Hrishikesh Janjal (@janjal_rishi) January 31, 2022
#4
Government to tax paying middle class during every budget #Budget2022 pic.twitter.com/bcui8qTRTA

— Finance Memes (@Qid_Memez) January 30, 2022
#5
Middle Class Middle Class
before Budget after Budget pic.twitter.com/BP2Tnk2giB

— Nimo Tai 2.0 (@Cryptic_Miind) February 1, 2022
#6
Every Year After Budget. #Budget2022 pic.twitter.com/3rRXAKnitS

— SHER SHA (@sher_sha1) February 1, 2022
#7
Chartered Accountants Today #BudgetSession2022 #Budget pic.twitter.com/ogMtCniDoT

— CA Anil Kr Yadav (@aniyadav17) February 1, 2022
#8
Watching the budget

My bank balance: pic.twitter.com/epFAhLpAfI

— Jupiter (@TheJupiterApp) February 1, 2022
#9
After reading budget details ,Middle class people's reaction#Budget2022 pic.twitter.com/XN6JJCrfpD

— Atyachaari_Nari (@Massakali_) February 1, 2022
#10
When no Major Benefits announced in budget for individuals#Budget2022 #incometax pic.twitter.com/IJnpBi65XT

— Krupesh Kothari (@krupeshakothari) February 1, 2022
#11
When someone asks me to explain budget : pic.twitter.com/O0JEWjDAB9

— जौली  (@blackbindigirl) February 1, 2022
#12
When my friend understands budget terms and talks like an expert. pic.twitter.com/GcFlU2jfuN

— अंकित जैन (@indiantweeter) February 1, 2022
#13
#cryptocurrency
Crypto investors watching Budget 2022 on TV : pic.twitter.com/FApHsIfZyW

— Chaitanya Jagnade (@chaitanyaneeti) February 1, 2022
#14
goverment in every union budget: pic.twitter.com/Shx4x2Kalk

— पीकी बलविंदर (@invincible676) February 1, 2022
#15
*Budget 2022 exists*
Me to my commerce friend pic.twitter.com/RaNMrlXIAT

— Vivek Gautam (@Imvivek04) February 1, 2022
#16
What the budget had for the benefit of Middle class :-#BudgetSession2022 #BudgetSession #Budget2022Live pic.twitter.com/a35Paa3oxz

— Ridhi (@ridhimishra98) February 1, 2022
#17
Situation of middle class 👇😀
who eagerly waiting for the good news regarding #incometax in #Budget2022 #BudgetBytes #Budget #BudgetDay pic.twitter.com/sLNXPgqaNh

— Chitra_fanclub (@chitra_fanclub) February 1, 2022
#18
Middle Class to FM:#BudgetSession2022 #BudgetSession #Budget #incometax pic.twitter.com/5GnnyMCIgQ

— CA Akhil Pachori (@akhilpachori) February 1, 2022
#19
Is their anything in budget for middle class.#Budget #BudgetSession2022
Nirmala tai: pic.twitter.com/DOBgMZrbxh

— Vaibhav Agrawal (@frankyy_13) February 1, 2022
#20
Chartered Accountants on #Budget day pic.twitter.com/FIRa3v6Bee

— Dilip Adiga दिलीप अडिगः (@dilip_adiga) February 1, 2022
What do you expect from budget this year?
Share Your Views In Comments Below