Sports
Twitter Trolled Dhoni For Playing Slowly Yesterday. Some Said He Should Retire
It was sad to see New Zealand beat India by 40 runs in yesterday's T20 in Rajkot. With NZ's win, the score is now 1-1. It would be worth watching which team will win the series, as it's tough competition now.
India got a very slow start as both Rohit Sharma & Shikhar Dhawan were dismissed in the 1st over itself. Even Hardik Pandya returned to the pavilion very soon. Indian fans were highly disappointed when the score was just 67/4.
Hopes of winning became strong as Virat hit a fabulous fifty. However, Twitter thinks that Dhoni couldn't meet their expectations, even though he scored 49 off 37 deliveries. Yes, Twitterati started trolling Dhoni for his slow display.
A particular capture from the match in which Dhoni is seen struggling to reach the crease is going viral over the internet. Twitter is trolling MSD for that. This is the pic which has spread like wild-fire;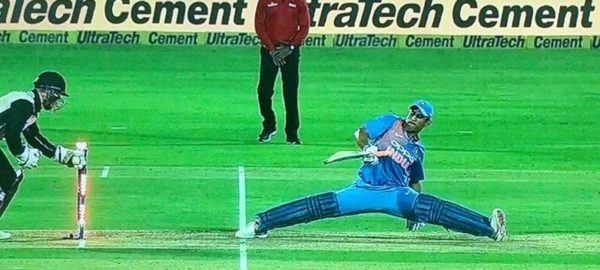 And this is how people started poking fun at this pose…
Trying to meet deadlines.
ME trying to meet deadlines for assignments #INDvNZ pic.twitter.com/XaZGlgDlxG

— Sameer Allana (@HitmanCricket) November 4, 2017
Last ball!
Virat: Bhai single kya le rahe ho?
Dhoni: Tu score kar
Virat: Aur aap?
Dhoni: Last ball pe six maarunga#INDvNZ

— PhD in Bakchodi (@Atheist_Krishna) November 4, 2017
Someone please tell him!
Someone go and tell MSD that this is a T20 international and not a Test match.

— Sameer Allana (@HitmanCricket) November 4, 2017
He should retire!
Dhoni is finished he should retire

— Pranjal Verma (@Pranjay96) November 4, 2017
This is the example!
If ever there was a match which showed Indian team management doesn't know where Dhoni should bat, it is this one. #IndvNZ

— Chetan Narula (@chetannarula) November 4, 2017
Stretching his career!
Dhoni stretching his international career. pic.twitter.com/mHbhE8NDt0

— Thomas Shelby (@ThisrtyScholarr) November 4, 2017
He should realize!
MSD is irreplaceable in ODIs, but it's time he realized he cannot score quickly in the shortest format of the game and give Pant a chance.

— LOLendra Singh (@LOLendraSingh) November 4, 2017
Painful!
Watching Dhoni bat the way he bats these days when the going is tough, is as painful as a root canal treatment.

— Parijat Sourabh (@SourabhPool) November 4, 2017
What he did!
What Dhoni did in Todays Match..#indvsnz pic.twitter.com/cl6IR7f9Eg

— wali🐯 (@iamWali10) November 4, 2017
What do you think about this? Dhoni is a consistent player, but if luck didn't favor him in yesterday's match, should he be trolled like this?
Share Your Views In Comments Below