Entertainment
Twitterati Asks "Who Is The Best Teacher", People Came Up With Hilarious Answers
Teachers are given the highest place in any man's life as they teach us the value of life. On the birth anniversary of Sarvepalli Dr. Radhakrishnan every year, teachers' day is celebrated to commemorate all your teachers' sacrifice and his lessons. Like every year, this year also the internet flooded with heartfelt messages for our teachers who came into our lives and changed it forever.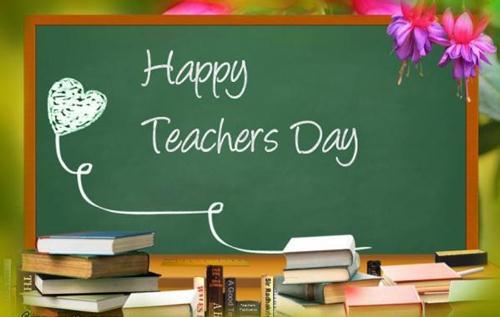 While some wished happy teachers' day to their educators, some wished life and even their ex for teaching them a lot of things. Meanwhile, a Twitter user asked, "who is the best teacher?"
Fill in the blank space using one word. pic.twitter.com/KGBJguqGpA

— Harshit Joshi (@joshiiharshit) September 4, 2019
The question tweeted by the Twitter user named Harshit Joshi received various hilarious answers with some genuine ones. From Google to YouTube, twitteratis came up with hilarious replies to this tweet.
#1
Google

— Uddhham ~Sing~ (@UddhhamSingh) September 5, 2019
#2
You tube 😔

— Govind Giri (@GOVINDG18641660) September 5, 2019
#3
Johny sins is the best teacher 😁

— Mr. UNKNOWN 🌏 (@sharmagorab6493) September 5, 2019
#4
शिक्षक दिवस की हार्दिक शुभकामनाएँ!! pic.twitter.com/C3Gz2TAVID

— राहुल त्रिवेदी 🇮🇳 (@yogirahulnath) September 5, 2019
#5
Life

— priya (@Allah73851378) September 5, 2019
Memers also had a productive day and sparked meme fest on the internet on the occasion of Teachers' day. Here are some of the most relatable and best memes on Twitter going viral.
#1
Happy Teacher's day to the Teacher of the year. #TeachersDay pic.twitter.com/ypFBxL52B6

— Bollywood Gandu (@BollywoodGandu) September 5, 2019
#2
Basically, every teacher ever!#TeachersDay (1/3) pic.twitter.com/ktWrUc99zZ

— InUth (@InUthdotcom) September 5, 2019
#3
#TeachersDay2019
Me : Happy Teachers Day sir🌏❤️
Le Teacher : pic.twitter.com/eXc3iiVj96

— H A R D I K (@hardikdaga3) September 4, 2019
#4
No-one:
*le girls on teachers day: pic.twitter.com/sdRLaXgzST

— Panda (@Sarcastic_bndi) September 2, 2019
#5
#TeachersDay2019
Teachers after collecting 20 Rs from each student on teachers day

Teacher to Headmaster: pic.twitter.com/J4VadtidKC

— Rafaquat Hussain (@iamRafaquat) September 4, 2019
#6
Happy Guruji Day #TeachersDay2019 pic.twitter.com/VWDm94uPpy

— Kaju Katli (@MonkNxtDoor) September 5, 2019
#7
Happy Teacher's Day!#TeachersDay2019 pic.twitter.com/1ffNTrpVNT

— Grumpy (@roooossshhiiiii) September 5, 2019
#8
Students: Happy teachers day sir You are the best sir lub you😍 teacher: pic.twitter.com/RJC68TV8XE

— गुRuजी (7युग से) (@Shariph19) September 5, 2019
#9
Lab Assistant on Teachers' day#TeachersDay2019 pic.twitter.com/pULttOgLnT

— Jaiveer (@Guy_marwaadi) September 5, 2019
#10
How to wish the teacher😂#TeachersDay #HappyTeacherDay pic.twitter.com/kdvrO3QAPc

— Vaibhav Jibhakate (@VaibhavJibhaka1) September 5, 2019
#11
When your student doesn't wish you a happy teachers day

You be like – 👇👇😂#HappyTeachersDay #शिक्षक_दिवस pic.twitter.com/ztZ8NHIoJv

— Amit Bhatt🌼 (@pahadii_) September 5, 2019
#12
Sorry for all the headache we gave you. pic.twitter.com/RwXEWmcF1g

— tracerbullet (@Archie_slays) September 4, 2019