News
Two Innocent Kashmiri Dry Fruit Vendors Were Beaten Up In Lucknow, Goons Released Video
Since the Pulwama tragedy of 14th February, the hostilities between India and Pakistan have almost reached a saturation point. However, another alarming trend has been noticed – the increase of animosity and hatred towards innocent Kashmiris.
It is shocking how a specific group of Indians are blaming and lashing out at innocent Kashmiris for an event they had no hand in.
In a recent turn of events, two Kashmiri fruit sellers were thrashed and beaten up in public by some men belonging to a fringe right-wing group in Daliganj in Central Lucknow.
In fact, a video of the thrashing was recorded by one of the attackers, who then released it on social media. You can check it out here:
SHOCKING: Some goons in saffron kurtas throttle, assault a Kashmiri dry fruit seller in Lucknow. Passersby come to rescue of the Kashmiri. Case yet to be registered.

Hope @Uppolice @Igrangelucknow @lkopolice register an FIR and jab these goondas at the earliest. pic.twitter.com/zXjI3Anh2n

— Prashant Kumar (@scribe_prashant) March 6, 2019
Here's another video of the same:
SECOND video of the attack. These cries of this Kashmiri should make us all hand our heads in shame. Truly disgusted to see these clips. This is not the #NewIndia anyone can hope for. India is big, our hearts are bigger. Kashmir is our and so are the Kashmiris. pic.twitter.com/L7nXAqL2vf

— Prashant Kumar (@scribe_prashant) March 6, 2019
The videos clearly show men clad in saffron clothes hitting the vendors, who seem to be pleading for mercy by covering their heads. The attackers claim to be thrashing them for being from Kashmir in the widely circulated videos.
These Kashmiri sellers have allegedly been selling fruits in the area for years, and had to provide proof of their identity to the men accusing them.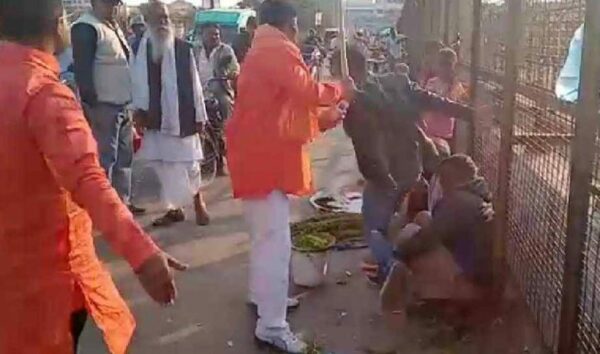 This event took everyone by surprise, until a few locals intervened. They can be seen asking the men to stop taking the law into their hands in the videos.
According to reports, a case of breach of peace and rioting has also been registered against the goons, and one man named Bajrang Sonkar has been arrested.
Another man who goes by the name Himanshu Awasthi claims to be the leader of the Vishwa Hindu Dal and had even posted a video of the fiasco on Facebook. The video has since then being taken down.
Even Omar Abdullah tweeted a video of the incident and said,
Nothing will do more damage to the idea of India in J&K than videos like these. Keep thrashing Kashmiris like this on the streets at the hands of RSS/Bajrang Dal goons & then try to sell the idea of "atoot ang", it simply wont fly. https://t.co/MYkuEuDLjj

— Omar Abdullah (@OmarAbdullah) March 7, 2019
This is shameful. No one has the right to vigilantism, or take the law into their own hands. Wonder how lashing out at innocent Indians can be termed "patriotic" or "nationalist."
Share Your Views In Comments Below