Humour
Two Women Fight For Seat In Metro While Another Keeps Her Bag On Seat & Enjoys A Burger
In the present times, there are many entertainment options available for us be it television, movies in cinema halls or movies/shows/web series on the digital platforms, etc. and apart from these all, it won't be wrong to say that social media platforms are also a great source of entertainment. However if we pay a little attention, we will find that there are many things happening around us which can also give us a good laugh.
If you are a regular commuter of public transport, you will definitely understand the importance of getting a seat and there are times when a person is so tired that he/she can even get involved in a fight for the purpose of getting a seat. Commuters standing in metros and local trains during the peak hours is a normal sight in India but what is more irritating is when people keep their bags on a seat in order to reserve the seat for someone who is going to join them from another station despite the fact that there are some people who need a seat.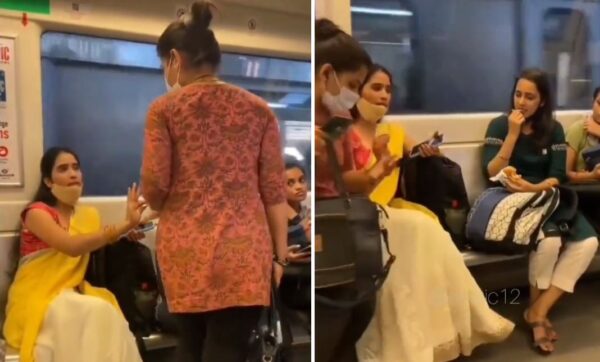 A video clip is going viral on the Internet and social media in which two women are seen sitting with their bags on the seats. A female commuter comes and asks them to remove the bags which they refuse. After this, the female commuter sits in the little space between the woman dressed in yellow and another passenger which irritates the latter and she also gets indulged in the war of words with the woman dressed in yellow. However, what is catching everyone's attention is the woman in green who is not at all affected with this fight and keeps on enjoying her burger.
Here is the video:
Max relate with the girl in green enjoying her burger 😂 pic.twitter.com/EcYwmJv4pY

— SwatKat💃 (@swatic12) August 13, 2022
Click to watch this video directly on Twitter
The video went viral for all the obvious reasons and netizens had a field day while enjoying women's fight and the burger woman's chilled out attitude. Some even pointed out that she threw ketchup packet on the ground and made it dirty while few other said that eating is not allowed in metro. Check out some of the selected reactions:
#1
Eating is not allowed in metro let alone throwing leftover here and there. One more reason why we are third world and don't deserve better transport.

— The_Fundamentalist (@cusppoteto) August 14, 2022
#2
Sshe has reached the Nirvana you know! She has seen it all !

— Àaynstine💫 (@flaatoon) August 13, 2022
#3
When Food is life 😂 https://t.co/V06nJJrBjZ

— ♠️ (@singhcastic) August 14, 2022
#4
Bur-gar 😬 pic.twitter.com/c6WlQqYHwJ

— Gauu ❦रब❦ (@ItsGAURAV_DGr8) August 13, 2022
#5
It is true indeed. Common sense is really uncommon in people. But also hats off to the lady in green who has "i don't give a f*** attitude." 😂☺️ https://t.co/nUg1zWs1qe

— J.wala (@Jatanwala) August 14, 2022
#6
The Green Dress lady is no less.
1. Hijacked the seat with her own bag.
2. Opening the sauce packet, and throwing the garbage on the floor.
3. Uske sir ke upar ek sign hai, "No Eating and Drinks" in Metro 🫤 pic.twitter.com/GvUmejlXbc

— Sundar VS 🔺 (@sundar_v_s) August 14, 2022
#7
Saree waali Didi ne bag ke liye bhi ticket liya hoga tabhi itna attitude dikha rahi hai 🤣

— Neenukettles (@neenukettles1) August 13, 2022
#8
Should not. For one, she has kept her bag on seat not allowing another fellow passenger to even have a courtsey of being offered a seat. Second, she is throwing ketchup packet in the train. Seems awkard to relate to such kind of individuals.

— Shilpi (@Shilpi07049904) August 13, 2022
#9
Jab mai metro mai travel krta hun tab ye sab kuen nahi hota, Mujhe smelly uncle kuen milte hai ye batate hue Momoz khane vali generation bekar hai kunki vo momo khati hai

— TheSkywalker (@Utkarsh_Neil) August 13, 2022
#10
The girl in green is like a person on CC in a fighting mail loop 😀

— karthik AR (@karthick_77) August 13, 2022
#11
I wish i could be that cool with the things around me. https://t.co/EEX4na3gmU

— most eligible shit (@melancholyotoko) August 14, 2022
#12
And see how she throws sauce sachet after cutting it

— Vikas Choudhary🇮🇳 (@choudharyvikkas) August 13, 2022
#13
😂😂 food pr focus rkho bss

— Pintu Kumar (@KumarPintu1222) August 13, 2022
#14
"Nhi jagh hai – bout jagh hai"
Female Version 🤣 pic.twitter.com/ePcJkHEAe8

— Wellu (@Wellutwt) August 13, 2022
#15
Whemen..😂😂 pic.twitter.com/P3pxdmsikh

— यूपी वाला (@Logical_Maanush) August 13, 2022
She is living in her own world, isn't she? What is your opinion in regard to the incident? Share with us.