Sports
Umar Akmal Got Trolled With The Funniest Memes For His "Mother From Another Brother" Caption
There is no denying the fact that the game of cricket is one of the most popular sports in Pakistan and this Asian country has produced some great cricketers such as Wasim Akram, Imran Khan, Saqlain Mushtaq, Inzimam-ul-Haq, etc. Despite playing cricket at the International level, majority of the Pakistani cricketers have problem in understanding and speaking English language because most of them come from rural background.
Many jokes have been made on Pakistani cricketers because of their problem with English language and Umar Akmal is also one of those players who is constantly trolled for his bad English.
Recently, Umar Akmal took to the micro-blogging site Twitter and posted a photo with the former Pak cricketer Abdul Razzak. There was no problem with the pic but it was Umar Akmal's caption that caught everybody's attention due to the big mistake that the cricketer made as he wrote, "Mother from another brother".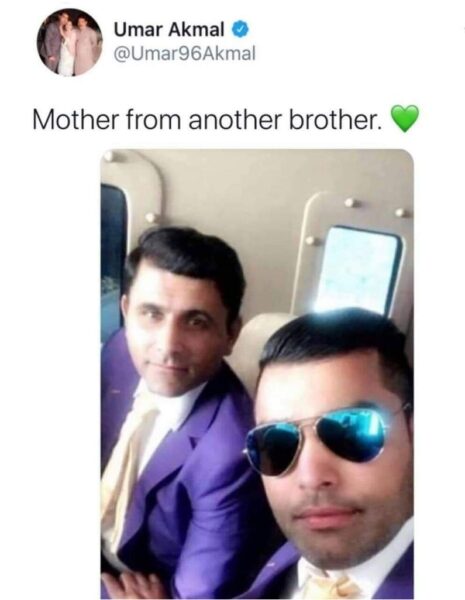 This tweet went viral instantly due to the caption as the original phrase is, "Brother from another mother" and Umar Akmal changed its meaning completely.
Twitterati went berserk and Twitter was flooded with memes over Umar Akmal's tweet. If this was not enough, a new hashtag, #UmarAkmalQuote also started trending. The Pakistani cricketer deleted the tweet but it was too late as its screenshot was taken by many Twitter users and now it has become favourite meme material of meme artists.
Here are some of the selected tweets in this connection:
#1
Form is class, But temporary is permanent#UmarAkmal #HBLPSL5 pic.twitter.com/l9PQEnrb2v

— . (@freakyFerhan) February 18, 2020
#2
Here is my entry
" Policy is the best 👍 honesty"
By_ Umar Akmal. #UmarAkmalQuote pic.twitter.com/FoYPk3bhLH

— Hitesh Janghela (@HiteshJanghela) February 19, 2020
#3
Blood is in my cricket.
-Umar Akmal. pic.twitter.com/YFwAss17K1

— Memers production (@memes_walay) February 17, 2020
#4
Cricket is suspended from UmarAkmal#UmarAkmal pic.twitter.com/3SdqUcQWaK

— C O C O M O (@momna_tahir) February 20, 2020
#5
Air is in the love 😂😂#umarakmal pic.twitter.com/7fF5E7kXlC

— T U B A ☄ (@ViRgoGirL_T) February 20, 2020
#6
Something answer is the best silence. #UmarAkmal pic.twitter.com/wRAqSfyc6q

— Asim Mughal 💖 (@parizaad159) February 20, 2020
#7
Interviewer : What do u have to say about Sehwag's comment – "Baap baap hota hai, beta beta hota hai"

Umar Akmal : Hey u, father is not father, son is not son. Son is the father of father. #UmarAkmalQuote#JustTimePass pic.twitter.com/zEGEo1Ewp0

— Darkest Knight (@NoooWhiteKnight) February 19, 2020
#8
Dont teach baby how to make fathers.
– Sir Umar Akmal #UmarAkmalQuote #umarakmal pic.twitter.com/QOwfjieq92

— Yashank Kothari (@whyykay) February 19, 2020
#9
Don't underestimate the common of the power man💪😎..
Lord Umar Akmal pic.twitter.com/D7O97PerGb

— NS by~ٹویٹ (@NStweits) February 19, 2020
#10
A doctor a day
Keeps the apple away…
*Sir Umar Akmal* pic.twitter.com/G771j5spKq

— Blah Blah Blah 🗯 (@BlahBlahBllaahh) February 18, 2020
#11
A single decide of sheet can't future my paper..😂😂😂 #UmarAkmal#UmarAkmalQuotes pic.twitter.com/ptOaIvZhsZ

— T U B A ☄ (@ViRgoGirL_T) February 20, 2020
#12
Consumption of health is injurious to liquor !#UmarAkmal pic.twitter.com/4AYaA8GzYV

— Harry (@HareebAbbasi) February 20, 2020
#13
I want chief justice #UmarAkmal pic.twitter.com/WrKKt4iPmC

— huzaifa (@huz_ii) February 20, 2020
#14
Noise be your success,Let your silence in Hard work…..#umarakmal #HBLPSLV pic.twitter.com/iTLmMnkbzL

— Ahsan Nakash (@AhsanNakash1) February 17, 2020
#15
#UmarAkmalQuote
My wife from another sister – Umar Akmal pic.twitter.com/iYr6SD9p72

— RaVi RaNjAn SiNgH🇮🇳🇮🇳🇮🇳 (@ravi_for_you) February 19, 2020
That's hilarious! Umar Akmal must be like, "I can talk English, I can walk English, I can laugh English because English is a very funnnny language…."
Share Your Views In Comments Below