News
"Unwanted Gifts Returned By Nature," Tons Of Plastic Waste Covered Mumbai Beach After Rain
The Nature has suffered a lot because of human's quest for development as the greenery of the planet Earth has been replaced by jungles of concrete. Moreoever, pollution by vehicles, industries, plastic pollution, etc. are increasing day by day and many other activities are also getting carried out which are damaging the Nature to a great extent.
There have been instances when the Nature has responded to the human's pathetic behaviour in the form of Tsumani, floods, etc. but majority of the humans still haven't learned the right way to live their lives. Despite the fact that the governments and municipal corporations are repeatedly asking the citizens to dispose waste in a proper manner and not to throw anything in rivers and drains, many citizens aren't listening and the early consequences of such behaviour can be witnessed in Mumbai recently.
Mumbai is one of the biggest cities of not just India but the world as well and it is also known as the financial capital of the country so it is quite obvious that it has a huge population. A video is going viral on the Internet which shows that the Mahim beach is covered with tons of plastic waste which is given back to the city by the Arabian Sea. This is the same waste which has been dumped into rivers and drains by the Indian citizens and now the Nature has given a warning to everyone by returning the waste.
The beaches of Mumbai were closed for some time due to the rains and when they were opened, the view was certainly horrifying.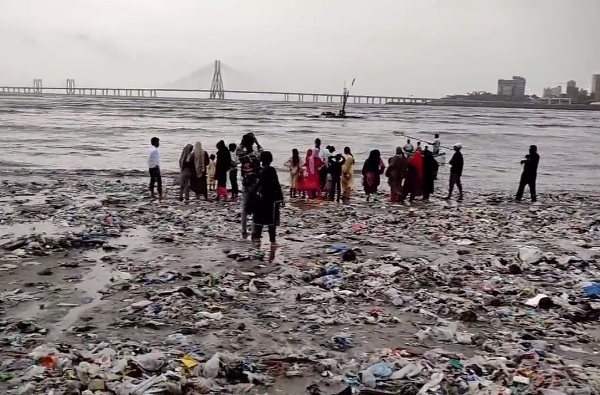 The video has been posted by Twitter handle Mumbai Matters and it has posted the video with the caption, "#Beaches in #Mumbai now Open. Citizens throng Mahim beach to have a look at the #ReturnGift from ArabianSea.. #PlasticPollution #MumbaiRains"
Citizens throng Mahim beach to have a look at the #ReturnGift from ArabianSea..#PlasticPollution#MumbaiRains pic.twitter.com/1JUmIpWof2

— मुंबई Matters™✳️ (@mumbaimatterz) July 16, 2022
This is how netizens reacted to it:
#1
Nature throw back what we threw into..

— पंकज कुमार गुप्ता (@Pankajdev8111) July 16, 2022
#2
Very sad to see that we humans have no respect fr nature,and just cannot stop throwing garbage around instead of using some common sense and throwing garbage in dustbins and avoiding use of single use plastic

— ahmed memon (@ahmed_bombay) July 17, 2022
#3
We should do our bit as our citizens to keep the beach clean!

— Shane Albuquerque (@shane5114) July 16, 2022
#4
Nature is fair. What you give it, it gives u back as it is. People should identify their garbage and take it back

— Rajan Patelji (@Rajanpatel9998) July 17, 2022
#5
Well done Mumbai. Keep it up. But seriously, @mybmc needs to do something on a war footing. This is just not acceptable..year after year. It's a shame& scary.

— she speaks (@SheSpeaks2021) July 16, 2022
#6
Nature warns first, when it has no effect, it will react. Let's not wait for that reaction, because we may not be able to bear that.

— GK Pillai (@pillaigkp) July 16, 2022
#7
Who will clean this mess ?. Wish our citizens dispose waste responsibly

— Raja Subramani (@RajaSub08378773) July 16, 2022
#8
Your action got reaction. Unwanted gifts by the citizens return back by nature.

— B.M.S.Khan (@BMSKhan) July 17, 2022
#9
Beaches in Mumbai treated as dumping ground

— Balasaheb G Kulkarni (@BalasahebGKulka) July 16, 2022
#10
Apparently, the return gift from Arabian Sea looks prettier than the original gift given to the sea, to many who like to walk on them. Why can't they just take those gifts home and cherish them with their family members?

— Austin Stevens (@AUSTINS41901555) July 16, 2022
#11
World has changed but no one can change mumbai and political mindset. Shame!!

— BBB (@sdg_sachin) July 16, 2022
#12
What you sow, so you reap!! Alas..God knows when people will realise the intensity of the situation…

— Shreya Sunil Joshi (@ShreyaSunilJos1) July 18, 2022
#13
They all came to see the waste on beach. But did anyone bother to pick up at least couple of waste to help clean this mess up?

— Lost Tardis (@losttardis9) July 17, 2022
#14
Nature's way of giving it back

— Kurla West (@KurlaW) July 16, 2022
The BMC has also responded on this post as it states that they are cleaning beaches but the citizens should also stop throwing waste in rives and drains because this goes into the sea which the Nature gives back as the return gift.
Sir, As u mentioned # Return gift its true . Citizens shall avoid throwing waste in drains & rivers which ends up un sea.BMC regularly cleaning daily throughout day all time.

Pls see attached herewith photo. pic.twitter.com/Z9BxJ5NwKO

— WARD GN BMC (@mybmcWardGN) July 17, 2022
If people don't change their style of living and habits, they will have to suffer in a big manner! #Shame
Share Your Views In Comments Below