Entertainment
Viral Personality Of The Year Priya Prakash Gets Her 1st Award. Big Moment For Fans
Malayalam star Priya Prakash Varrier became an instant star on social media even before the release of her debut film. A song from the upcoming film Oru Adaar Love and her expressions in it crushed millions of people away. She became a phenomenon and everyone was just talking about her.
Her Instagram account received millions of followers in just a couple of days and that was something never seen before in India. Priya Prakash Varrier was called National Crush, Wink Queen and what not.
Soon she got her Digital and TV endorsements which re-ensured the levels of her stardom.
Now Priya has taken a step ahead as she has just been honoured with her 1st award. Yes, the die-hard fans of Priya have another reason to rejoice because she was recently honoured with "viral personality of the year" award at the Outlook Social Media Awards.
Priya took to Instagram and announced the big news to her 5.8 Million followers. She wrote-
Feeling honoured to receive my first award.Thank you Outlook for choosing me to be the "viral personality of the year". This is for you omarikka and the whole crew of Oru adaar love 💛
Wearing: @anjali_varma_official
You can also check the picture below-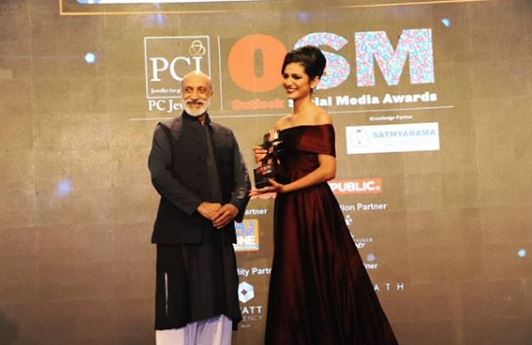 That's some really big news for her fans. This is how her fans reacted-
1

2

3

4

5

6

7

What are your thoughts on it?