News
Viral Video Of Car Getting Drowned In Sinkhole In Mumbai Floods Twitter With Hilarious Memes
The monsoon has reached Mumbai and like every year, the situation in the financial capital of the country is pathetic once again as the roads have got flooded just after the first rain and things seem to deteriorate further as the monsoon progresses.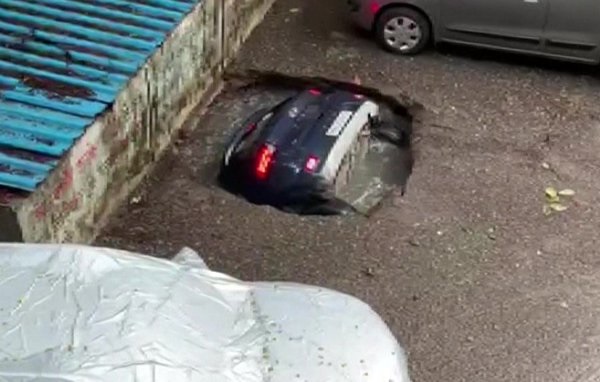 For many years, we have been hearing that people fell in the main holes of the road as they were not able to see them due to water-logging but recently a weird incident came into light as a whole car got drowned in the water-filled hole. The video of the incident was shot by an eye-witness and it is going viral on the social media networks.
Here is the video:
Scary visuals from Mumbai's Ghatkoper area where a car drowned in few seconds. pic.twitter.com/BFlqcaKQBo

— Shivangi Thakur (@thakur_shivangi) June 13, 2021
Click to watch this video directly on Twitter
The incident took place in Mumbai's Ghatkopar and as per the traffic police, there used to be a well over there which was covered by the concrete slabs and the space was being used by people for parking cars.
There was a old well which was later covered by a cement slab above it pic.twitter.com/dZLEyIaTv5

— NashikIndustryGroup (@NashikIndustry) June 13, 2021
Due to heavy rains, the land got subsided and the car got drowned into water but luckily no person has been reported as injured.
Maharashtra: A viral video shows a car sinking in a sinkhole in Mumbai's Ghatkopar

Traffic Police says,"There was a well at the place. Some people covered it with concrete slab&started parking cars over it. Incident occurred due to land subsidence following rain. No one injured" pic.twitter.com/N8Tys2BrUY

— ANI (@ANI) June 13, 2021
The video went viral instantly and it also gave enough fodder to meme makers for displaying their creativity as a result of which the micro-blogging site Twitter soon got flooded with memes and jokes. While some comparing it with Parle-G's dip in tea, few others are questioning as to why the person who made the video did nothing to get help for the car.
Check out some of the selected reactions:
#1
Rare visual of car committing suicide due to rise in fuel prices… Better humour! #FuelPriceHike @AnupamPKher @SrBachchan @akshaykumar https://t.co/ByQOz8ZL0E

— Phil Harmonic (@toomuchPhil) June 14, 2021
#2
*Nobody*
Parle g after seeing chai: pic.twitter.com/KFT6LAQhMS

— Sindhi Chhokro (@seerwani_piyush) June 13, 2021
#3
We know the premise of the next Fast and Furious movie! https://t.co/GQfkLfZjAE

— Philip Mwaniki (@Mwanikih) June 13, 2021
#4
Rajasthani guy after seeing water: pic.twitter.com/3RVJNYucVR

— MayMayholic (@maymayholic__) June 13, 2021
#5
"Don't fall in too deep, she doesn't feel the same about you"

Boys: pic.twitter.com/nRQ6AHpnd3

— Neeshantt🎭 (@thenishantrana) June 13, 2021
#6
"hello how r u? i'm under the water. here too much raining uuuuh" pic.twitter.com/BqNO6z4KsK

— Nikhil (@niquotein) June 13, 2021
#7
What you know about rollin' down in the deep 🎶 pic.twitter.com/eIyGNB9B1h

— Pakchikpak Raja Babu (@HaramiParindey) June 13, 2021
#8
Car ko bahar nikalne k liye delhi se special bulaya hai.. pic.twitter.com/z9ImSgy3bC

— Raja Mishra🇮🇳 (@raja_mishra02) June 14, 2021
#9
BMC providing free magic show to people bored at home during the lockdown. 😭😂😂 pic.twitter.com/Rueh4bKwzr

— A&S L (@asllnl) June 13, 2021
#10
car owner : pic.twitter.com/0Zw9GWvJl3

— Rishabh (@sirrishabh1) June 13, 2021
Some reports have suggested that the car belongs to a 67 years old Dr. Kiran Doshi and the video has also been shot by him. The car has been taken out of the well now as the BMC officials first pumped the water out of the well and after locating the car, it was pulled out using crane.
It was finally taken out.. pic.twitter.com/SUpv1aKEg3

— ABG (@TwAbhitter) June 13, 2021
Hopefully, BMC will ensure that any incident of this type does not take place again in Mumbai again.
Share Your Views In Comments Below