News
Viral Video Shows Waiter Asking Poor Kids To Leave From The Restaurant, Twitter Gets Angry
The social media platforms have become a very powerful medium to raise voice against anything wrong which is taking place in our society and many times we have seen that it also brings good results.
Once again netizens got active and slammed a restaurant and its chain for mistreating poor kids who came and sat inside its premises. This has once again started the debate whether only those people can sit inside a restaurant who have worn good clothes and are of good status and poor people have no right to visit such restaurants even if they have money to pay for their food.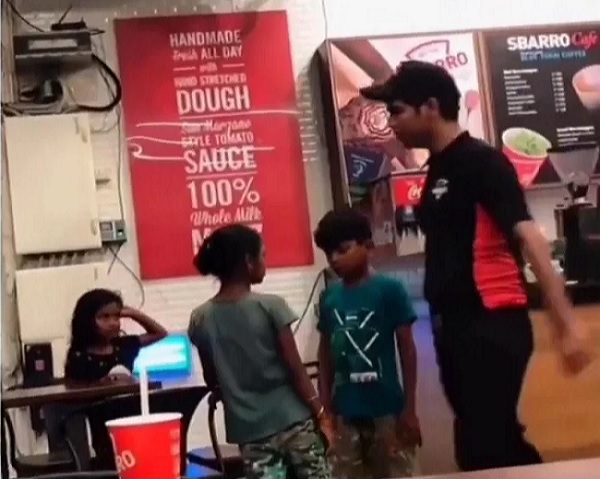 A Twitter user took to the micro-blogging site and shared a video of an incident which took place in Sbarro outlet. The tweet read, "Don't know about the place but if these kids have paid for something they should be allowed to sit inside. But the way the waiter is pushing them out and kids looking at each other shows, we see the financial status of person and decide how much respect to give."
Don't Know About The Place But If These Kids Have Paid For Something They Should Be Allowed To Sit Inside.

But The Way The Waiter Is Pushing Them Out And Kids Looking At Each Other Shows, We See The Financial Status Of Person And Decide How Much Respcet To Give.

— ਹਤਿੰਦਰ ਸਿੰਘ (@Hatindersinghr3) June 27, 2022
Click to watch the video directly on Twitter
However, there was a little confusion as to whether these kids ordered something or not. Soon the video went viral after which Twitterati started expressing their opinion in this regard and many slammed the restaurant as well as the waiter for this kind of treatment with the kids. Here are some of the selected reactions:
#1
Very sad :((

— Navdeep Singh (@SinghNavdeep) June 27, 2022
#2
Recording and sharing wont help or change anything…but intervening and standing against wrong will.

— ZackIND (@zackIND) June 27, 2022
#3
Dear team @Sbarro

Is this how you treat & discriminate people based on their dress, standard and color?

Absolute inhuman 💔💔 https://t.co/N4XGkApTxP

— DEVENDRA PRATAP SINGH (@FearlessDPSingh) June 27, 2022
#4
Aaj bhi aristocracy chaat rahe hai hum….

— Pranav (@Leadsdaway) June 27, 2022
#5
If anyone can tell me where this is, I'll like to personally rake the kids to the same outlet
Once a McDonalds person shooed away Street kids in Delhi, main agle din Sec 35 lai gya see jwakan nu https://t.co/i7hBuTWkXs

— Sumeet Gill بے مقصد گھومنا (@sumeetism) June 27, 2022
#6
yes,they haven't order anything or not going to order anything

— LIOKANG (@LIOKANG6) June 27, 2022
#7
The person who is telling the kids to go outside because he is not aware whether they are going to buy something to eat or not so he may have told them to go out and if he will not tell them to go out then he will have to face the consequence from his Senior.

— karthik Nadar (@knadar1988) June 27, 2022
#8
I am crying

Can't see those innocent kids going through such plight…

— Anil K V (@anilkvtweet) June 27, 2022
#9
@Sbarro_IN learn to treat kids properly. You definitely wouldn't HV gvn them free entry n food. Then why? And person who recorded this why didn't react at all??

— Poonam Pawar (@bapu19886) June 28, 2022
#10
But why people just take these videos instead of intervening?

— Swapneel (@Swapneel2010) June 27, 2022
#11
How depressing is that? https://t.co/Miel35ZXDW

— Anil Talwar🇮🇳 (@aniltalwar2) June 27, 2022
While many people have reacted on this matter and felt sad for the kids from the bottom of their hearts, the big question is whether these people would be comfortable themselves if poor kids are sitting in restaurants while they are dining. This is one question which we all need to ask ourselves.
Share Your Views In Comments Below