Food
Woman's Tweet On Fusion Dish Gulaab Jamun Cheesecake Sets Twitter On Fire
The coronavirus pandemic may have made our lives difficult as we were forced to remain inside our houses for the majority part of the year 2020 but it also made many of us discover the cook that was resting inside us. Fusion cooking is something which has gained pace in the recent past during the pandemic as people put an end to their curiosity by mixing two different dishes together and not only tasting them but also posting the pics on the social media networks. While some dishes looked so bad that people wanted to vomit at their sight, there were few dishes which appeared to be so good and tasty that even if we didn't like the concept, many of us wanted to taste them at least once.
Gulab Jamun is certainly one of the most loved Indian deserts and we love to dig our teeth in the chashni soaked mava balls any time of the day. Well, there are some people who like to have gulab jamun mixed with vanilla flavoured ice-cream too but have you ever heard of mixing gulab jamun with cheesecake.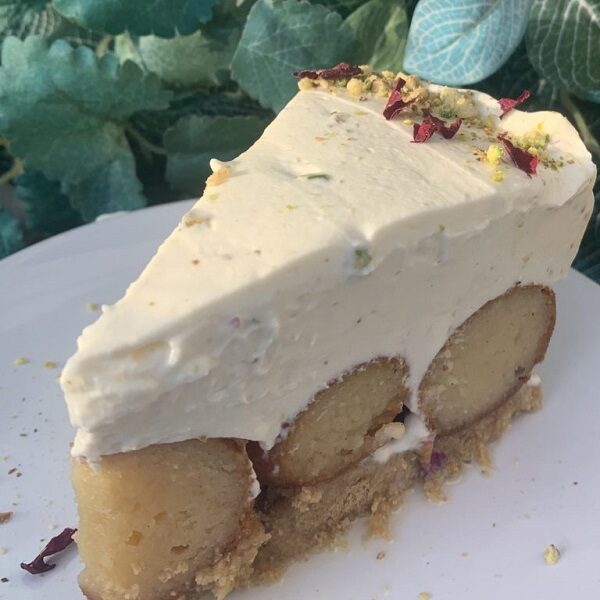 A Twitter user shared a photo in which gulab jamuns were seen sandwiched between the cake crust at the bottom and layer of cream at the top. It is obvious that this dish will be rich in sugar and fat but it will be a great treat for those who have a sweet tooth.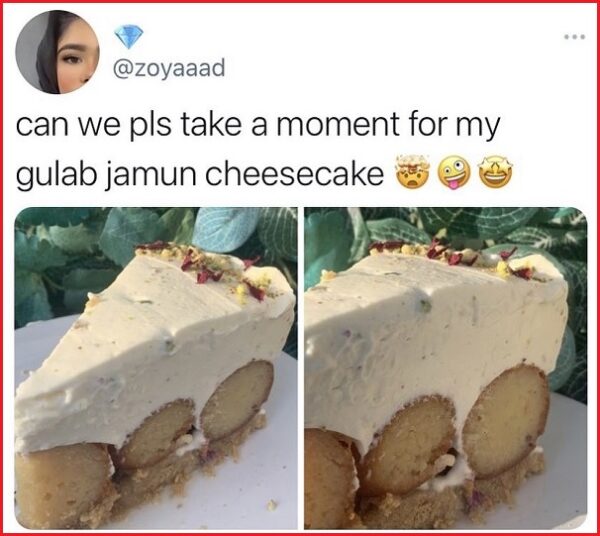 Soon Twitter users started reacting; while there were some who fell in love with the dish just with a look at it and wanted to know its taste, many felt awful after such treatment being meted out to the delicious gulab jamuns.
Here are some of the selected reactions:
#1
Wow! how did you make this???? I've never seen anything like it I'm trying to imagine how it tastes!

— SHAY KHAN (@shaykhanartist) April 5, 2021
#2
— Ornwen (@ornwen) April 4, 2021
#3
Yummm. This works because the tartness of cream cheese works well with the sweetness of the gulab jamun. https://t.co/JhjehslnAD

— Atiya (@bhumrobhumro) April 5, 2021
#4
OH MY GOD I HAVE NEVER SEEN SOMETHING SO GORGEOUS https://t.co/9aMhwwWe7P

— I'm too pretty for this (@plentycarbon) April 5, 2021
#5
@Akarshini_S @SorrelShandy_
👀 Something I never knew I needed… https://t.co/NdnmBVYsuQ

— 🦋 Kens Rea ⚖ (@KayeVee93) April 6, 2021
#6
I would call it hyper desert… can't resist

— Dr Javed Munir Ahmed (@JavedMunirAhmed) April 5, 2021
#7
This sounds tempting but also illegal at the same time 🧐🧐🧐

— Khadija Saleem (@KhadijaSaleem1) April 4, 2021
#8
Totally destroying the sanctity of gulab jamunsss

— Ghania Jalil (@GhaniaJalil) April 4, 2021
#9
From when did gulab jamun .needed help of cheese ?

— Mak (@Mak95360754) April 4, 2021
#10
Looks disgusting and I'm sure tastes disgusting as well:)

— a (@Cheemasaaaab) April 4, 2021
#11
— amna alam (@beingamnaalam) April 4, 2021
#12
— Akash Singh Rajpoot (@realbawamp) April 6, 2021
#13
Warning! this image will cause a Diabetic Coma. https://t.co/C9MJaniOzO

— Rezo (@Rizo78) April 5, 2021
#14
Another day of people ruining two extremely ravishing things ONLY when consumed separately https://t.co/TZeBQKzlU0

— Buzy Bee (@me_as_a_bean) April 5, 2021
#15
U disrespected gulab jamuns as well as cheesecake,😭😭

— Lizz (@GirlWhoSurvives) April 4, 2021
What do you think of this dish? Have you ever tasted it or are you going to try it now?
Share Your Views In Comments Below