Bollywood & TV
Yeh Rishta Fame Mohena Kumari Gave Apt Reply To Hater Who Trolled Her For Veil During Wedding
The beautiful TV actress Mohena Kumari Singh of Yeh Rishta Kya Kehlata Hai fame got married recently with Suyesh Rawat in a grand manner in Haridwar. The wedding was bound to be a big affair as other than being a TV actress, Mohena is a member of royal family of Rewa, Madhya Pradesh, while Suyesh is the cabinet minister in the Uttarakhand government and he is the younger son of one of the most influential political leaders and spiritual guru Satpal Ji Maharaj.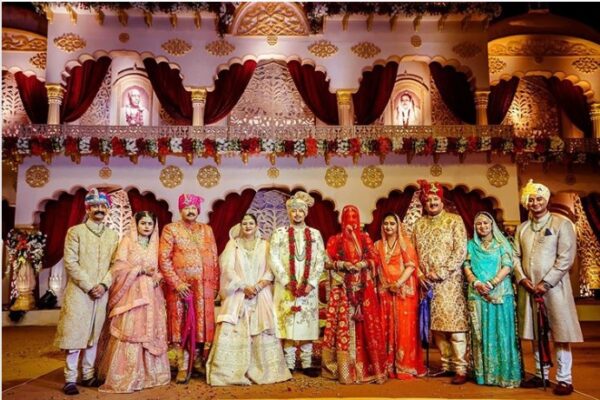 The photos and videos of the marriage were shared on the social media networks and the bride and groom looked awesome in their traditional attires. In fact, it won't be incorrect to say that they both were complementing each other beautifully.
Mohena shared an adorable photo on Instagram with caption, "Wish you all a Happy New Year from the Rewa and Rawat Family with a message to spread Love , Peace , feeling of Unity , Happiness and good health to the World and our Country. 🌸🍁"
However, some people were not happy with the fact that Mohena was wearing a long veil during the marriage ceremony. They slammed the actress for following such traditions which show woman as weaker despite being educated.
One user asked her, "Why is your face under veil?"

And to this, another social media user replied, "Because these are people who follow their so called male dominated rituals. Even education doesn't get them a brain."

Mohena was in no mood to take the troll lightly and she gave a perfect reply to those who have a problem with old traditions of Hindus.
She says that wearing veil is something which is done in Islam and Christianity as well at the time of wedding. She further writes that the bride wears a long veil because it is a tradition of Rajputs and she did it because she wanted to and not because anyone forced her for it.
Her comment read, "Even Christians have a veil when they marry…. and so Muslims…. I guess they are all uneducated too! It's an age old Rajput tradition which Rajput women follow when they get married. This was not forced upon me…. I chose to do it."
Her second comment read, "This person called people who follow a Rajput tradition of wearing veil, uneducated…. so I said that just Rajput's, Christians and Muslims also wear veils…. so why are they calling us Rajput's uneducated just because we like to follow a few things that are part of our culture."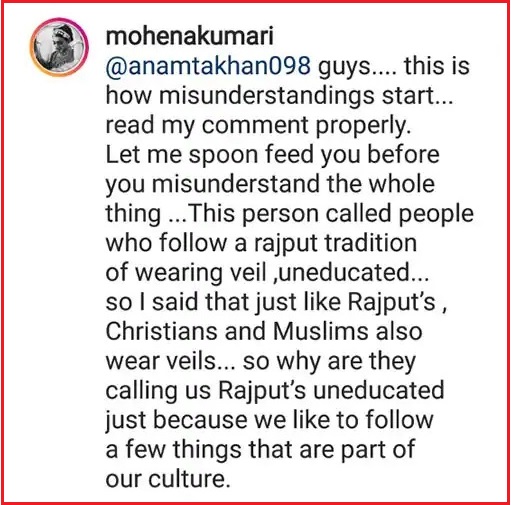 Later on, her husband Suyesh Rawat also slammed the trollers and asked them to get a life.
His comment read, "Your awareness seems like a glass half empty not half full your perspective is like half knowledge which is dangerous you seem to be arrogant, unaware and claiming to be a pseudo intellect next time please Google before throwing a statement because it might not go down well with many #publicitystunt"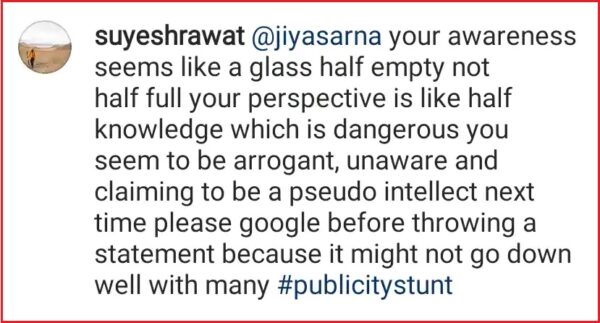 More power to you Mohena!
Congratulations to the newlywed couple!