Facts
11 Facts Why Sushma Swaraj Is Known As The Iron Lady
Sushma Sawraj stands as the best External Affairs Minister of all time and also one of the best Cabinet Minister in Narendra Modi led NDA government. Sushma Swaraj was one of the most kind and helpful leader. Sushma Saraj made every Indian feel she exist and exist to good for others.
Sushma Swaraj did not contest in 2019 Lok Sabha elections because of her health issues. She took a personal interest in resolving public issues like issuance of visa to the needy and getting relief to Indians in distress. Also, she built an Indian human capital abroad. From being called 'Supermom' of India by Washington Post to becoming one of the most-followed Indian politicians on Twitter, she was the perfect example of a true leader.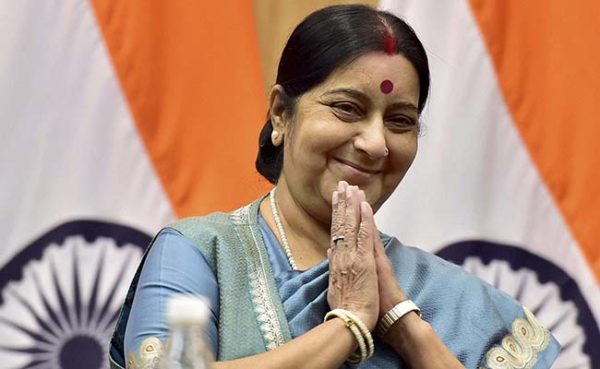 Here's 11 rare facts about the Iron Lady of India:
1. Sushma Swaraj had connections with our neighboring country Pakistan as her parents hailed from Dharampura area Lahore, Pakistan. During her visit to Pakistan she visited Dharampura.
2. Sushma Swaraj as an advocate by profession. She started her practice as an advocate in the Supreme Court in 1973. Iron Lady was also part of the George Fernandes legal defence team.
3. Sushma Swaraj is acknowledged as mother because she saved hundreds of Indian people stuck in other nations for various reasons and helped many from different nations who were stuck in India.
4. Sushma Swaraj is loved by our neighboring country Pakistan as she helped more than 15 Pakistanis with their medical visas without holding any grudges against anyone.
5. Sushma Swaraj started her political career with Akhil Bhartiya Vidyarthi Parishad (ABVP) but later, after emergency she became a national leader after joining the Bhartiya Janta Party (BJP).
6. Sushma Swaraj became the youngest Cabinet Minister of a state at the age of 25. In 1979 at the age of 27 Sushma Swaraj became the state president of Haryana of Bhartiya Janta Party.
7. Sushma Sawaraj helped to liberate the Indian film Industry. In 1988 Sushma Swaraj served as the Union Cabinet Minister for Broadcasting during her tenure she declared the film making sector as an industry and gave it the eligibility to grant bank loans.
8. Sushma Swaraj was BJP's first female Chief Minister, General Secretary, Union Cabinet Minister, Spokeperson and Minister of External Affairs.
9. Sushma Saraj was the first female Chief Minister of Delhi. She served for a short period of time in 1998.
10. Sushma Swaraj was the first and only female MP who was honored with the Outstanding Parliamentarian Award in the year 2004.
11. Sushma Swaraj backed up Congress during the formation of Telangana. Sushma Swaraj played a vital role in passing Telangana Bill. She even had to argue with senior BJP leader LK Advani.
We will miss you Sushma Swaraj ma'am, may God give peace to her soul and power to her family.
Share Your Views In Comments Below