Humour
Desi Twitter Is Amazed With Amul's Tribute to Sushma Swaraj
Sushma Sawraj stands as the best External Affairs Minister of all time and also one of the best Cabinet Minister in Narendra Modi led NDA government. Sushma Swaraj was one of the most kind and helpful leader. Sushma Swaraj made every Indian feel she exist and exist to good for others.
Sushma Swaraj did not contest in 2019 Lok Sabha elections because of her health issues. She took a personal interest in resolving public issues like issuance of visa to the needy and getting relief to Indians in distress. Also, she built an Indian human capital abroad. From being called 'Supermom' of India by Washington Post to becoming one of the most-followed Indian politicians on Twitter, she was the perfect example of a true leader.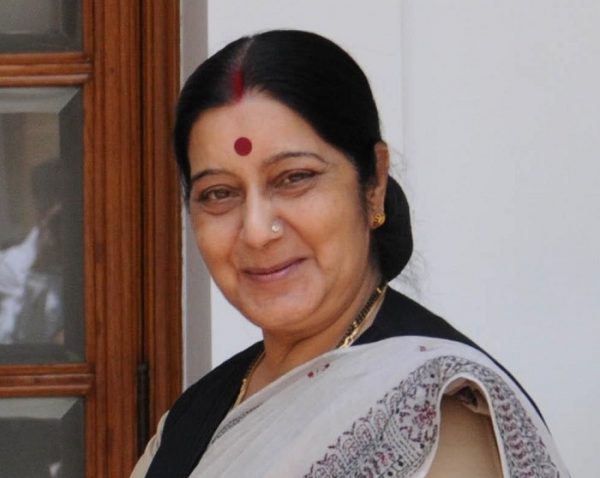 Amul paid tribute to the Iron Lady of India with a black and white cartoon advertisement. In the advertisement Sushma Swaraj can be seen sitting at her desk with her signature attire and laughing with the tagline 'Swarjaya Ka Ahaam Hissa…' (integral part of self governance).
#Amul Topical: Tribute to Sushmaji, respected lawyer and leader. #SushmaSwaraj pic.twitter.com/RqwnWqppAA

— Amul.coop (@Amul_Coop) August 7, 2019
Desi Twitter is rooting for the heartwarming advertisement of AMUL. Here's how people reacted:
#1
Amul beautifully says everything in one picture. Legends are Unique!! https://t.co/W7cpmzUPFK

— LS Murthy (@lsmurthy99) August 8, 2019
#2
Your creative team always leaves us amazed and smiling. It brought tears this time…

— Drunken Knight (@bakbak79) August 7, 2019
#3
Born on 14/2, she was the nation's real valentine!

— manoj jallan (@manjallan) August 7, 2019
#4
I was waiting to see what tribute Amul was going to give #SushmaSwaraj mam and I must say, it never fails to impress as always! ❤️ #RIPSushmaJi

— Clueless! (@Lifez_Beautiful) August 7, 2019
#5
Nobody could have put it any better than Amul!

— Rohan Kadam (@RohanMilan) August 7, 2019
#6
Nice way to show respect from a company😍😍

— phalguni das (@phalgunidas6) August 7, 2019
#7
You never fail to amaze me, whether it is something to laugh at or something tragic like this. Proud of Sushmaji, proud of Amul!

— Sunil Maheshwari (@sunilsaysit) August 7, 2019
#8
Summed it up aptly

— Natarajan Ganesan (@natarajang) August 7, 2019
#9
Superb tribute n emotional msg .. great work …

— Parag Bhojak (@BhojakParag) August 8, 2019
#10
You always have novel ways!

— Rupal (@rupal30063) August 8, 2019
We will miss you Sushma Swaraj Ji.
Share Your Views In Comments Below