Partner
5 Reasons Why Nerolac's Larger Than Life Mural Is A Precious Durga Puja Gift To The City
The popular Durga Pooja festival has a great traditional value and it is celebrated with much zeal all over the country, especially in India's northeastern part. Its splendor can be guessed by the fact that apart from India, some other countries like Nepal and Bangladesh also celebrate it enthusiastically. The festival has mythological values attached to it as well. Centered on Hindu Goddess Durga, this is one of the biggest festivals for Bengalis.
What could be a nobler task than promoting art and culture of a country and Kansai Nerolac has been dedicated to this for a long time? The SPSP mural painting competition is held by the company every year in which over 1000 artists from across the nation take part.
Larger Than The Life Mural On The Walls Of Peerless Inn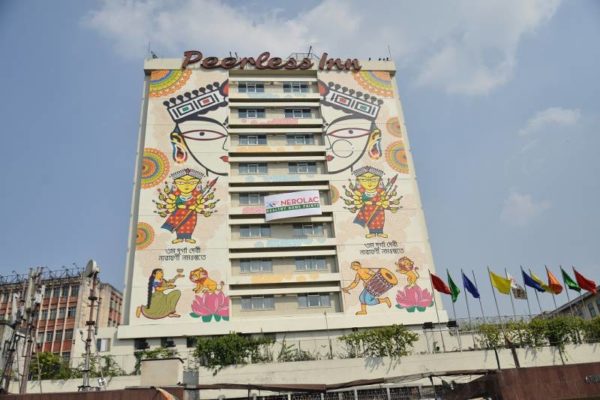 Many celebs were attracted towards the competition this year, such as Tapas De and Rituparna Sengupta along with Mr. Ram Mehotra, the VP of Nerolac India. Along with Durga Puja rituals, yummy food and traditions, one thing that caught our eye was the larger than life mural dedicated by Nerolac on the walls of hotel Peerless Inn. The mural gave a depiction of Durga Pooja celebration throughout Kolkata on the homecoming of Maa Durga. The mural designed by Tushar Kamble and conceptualized by FCB Ulka offers the true essence of Durga Pooja and the following festivities.
As part of this initiative, Nerolac dealers across West Bengal donated 1 liter or more paint so that this beautiful mural could come to life.
Below are some reasons which make us believe that this Mural is one of the most precious gifts to the city on this festive season:
1. Perfect depiction of Durga's homecoming
Durga Puja is the most awaited festival for Bengalis. It brings a new ray of hope and freshness to the city. Mural of this year covers the walls of Peerless Inn in Kolkata and evidently portrays the vibrant city's true colors which are apparently visible throughout the festival. The mural shows an enormous and life-like portraiture of Maa Durga riding on a lion and thus captures the homecoming of the Goddess in its real spirit. Beautiful and vivacious colors will catch your attention and you will naturally get engrossed in minute details of the extraordinary creation.
Also, comparing the 10 hands of Maa Durga with hands of their painters shows the creativity behind this mural.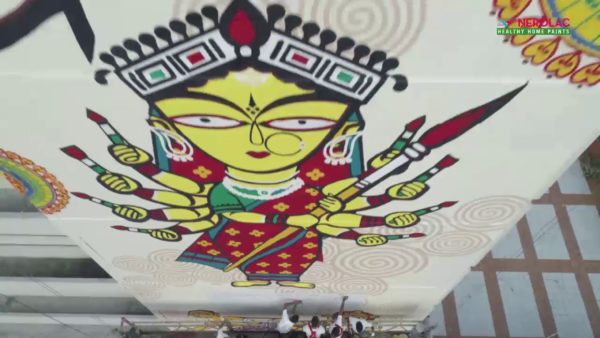 2. Adding a unique experience during Durga Puja
Durga Puja comes with many amazing experiences and this mural has added something unique for the city to cherish. No one can ignore this Mural and everyone will stop to take a glance and enjoy its beauty.
3. Bringing people together
The idea behind this initiative is not just about creating a pretty mural but bringing people together and helping them paint beautiful memories of the Pujo celebrations and familial bonds. In fact, Nerolac has ended the video with the message "Many colors, One Devotion"
For More Videos, Subscribe Us Now
4. Cultural importance
In this digital age, the new generation is forgetting the values old people had. But such initiatives will make people memorize their culture; even the curiosity behind knowing this meaningful mural has increased all the more.
5. Making the city more colorful
Kolkata is considered as the city of lights and colors. It has something for everyone. Life in this city is not only about making money and living a well-organized life, people here like to enjoy every moment. This mural relates to the lifestyle of this city completely as it is full of different colors and dimensions.
Even if you can't make it to the venue to delight yourself with a visual treat of the exceptional mural, you will definitely not want to miss these images.
Taking this all into consideration, it won't be an overstatement to say that Nerolac has succeeded in keeping Durga Pooja spirit alive and the result is evident in the form of an outstanding platform that offers a lifetime opportunity to artists from different parts of the nation.
In association with Kansai Nerolac
Share Your Views In Comments Below