Entertainment
A Crazy New Theory About Harry Potter's Scar Has Gone Viral, You Certainly Can't Miss This.
J.K.Rowling's fantasy adventure series released it's first book twenty years ago, still there are millions of fan all around the world screaming Harry Potter.
Now, recently Today Years Old, came out with quite a revelation about Harry Potter's scar. According to them the scar which resembles the shape of a lightning, is actually the curse spell used by Lam Lord Voldemort to kill lily and James Potter.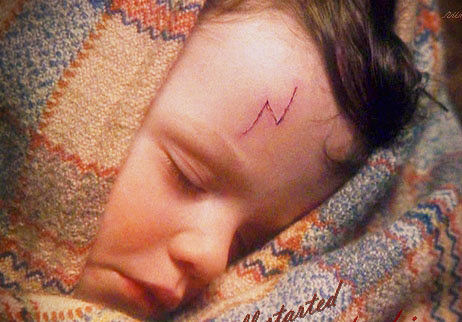 The shape of the scar also resembles the motion of the wand, by which Voldemort swung his wand to cast the death spell on them. Avada Kedavra was the strong spell that he used.
Check out their post here.
Did you know Harry Potter's scar isn't a lightning bolt, but actually the hand motion to cast Avada Kedavra pic.twitter.com/B8ig9dLGFg

— Today Years Old (@todayyearsoldig) January 10, 2019
Check the reaction of the fans. Some already knew and some are just too shock to believe this revelation. Even some are requesting J.K Rowling herself to confirm it.
1.
So if this is true, then why is the movement NEVER mentioned elsewhere at any point and time? Also, if this is true, why has nothing been confirmed/denied on it yet by @jk_rowling herself?

— Drake (@Lady_Dracona) January 12, 2019
2.
— Rusty Titan (@twett23981) January 15, 2019
3.
Trust me, I was today years old. pic.twitter.com/WvkLRRDjNP

— Bratati Mondal (@being_brats) January 15, 2019
4.
Omg I've never thought about it so far😣 https://t.co/l2xVRMrIEG

— Esra (@Moresra) January 14, 2019
5.
— LesBeMums (@LesBeMums) January 14, 2019
6.
@jk_rowling can you confirm or deny for all the Potterheads wondering about it (myself included) ??

— Jessica U (@jluphold) January 14, 2019
7.
Voldemort did the wrong hand movement that is why he only got a scar!

— Marilyn Ochoa (@804Ghost) January 15, 2019
8.
Actually, it's both. And I'm obsessed with Harry Potter so I knew this

— Bailey (@Bailey51484658) January 11, 2019
9.
Is this intended @jk_rowling

— Josh Walsh (@Superpig1O2) January 15, 2019
10.
Its mentioned in books and if you watched movies you can easy connect the dots yourself,movement for casting that spell and fact that they do mention both in books and movie that its that spell that coused the scar.

— [email protected] Life (@Ibartu78) January 13, 2019
So, what is your theory regarding this?
Share Your Views In Comments Below