News
A Mahindra Tractor Has Been Spotted In PUBG And Social Media Has Gone Crazy
The social media is currently abuzz with the online game called PUBG (PlayerUnknown's Battlegrounds). The game has become a huge topic of discussions lately, so much so that a major part of memes and social media posts are talking about it only. An average Internet user is spending a big amount of his time daily in playing PUBG.
The latest update about the world of PUBG is that someone has spotted a Mahindra tractor in the game.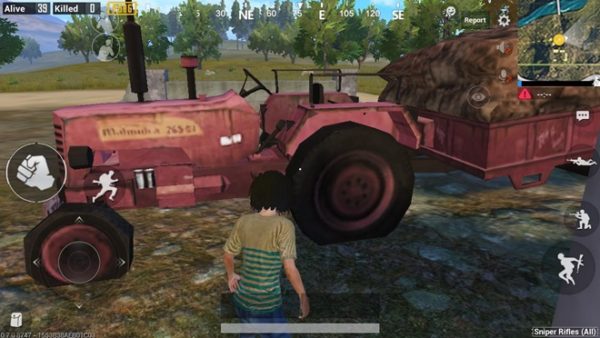 A YouTuber named chocotaco spotted Mahindra tractor 265 DI while playing PUBG and shared what he observed with his subscribers. Watch the video-
For More Videos, Subscribe Us Now
Click Here to watch the video directly on YouTube.
After that several Internet users' eyes caught the Indian tractor in the most played game of 2018 and made it a topic of discussion. Take a look at some tweets –
#1
Mahindra tractor goes global with #PUBG pic.twitter.com/hlq6V87KZx

— Singh (@Anuuuuurag) August 23, 2018
#2
Could this really be it?
@MahindraRise tractors in @pubg #pubg #mobile Mahindra 2651 DI tractor. pic.twitter.com/U3ltRY0B1U

— jems_n_crystals (@jems_n_crystals) August 20, 2018
#3
@anandmahindra sir look what I found while playing PUBG ,
Mahinda 265 DI

Best example of Mahindra goes Global pic.twitter.com/Ow0JyiX456

— naveen raina 'visthapit' (@nvnraina) August 29, 2018
#4
Mahindra 265 in PUBG.. i wish we could ride this😃 @anandmahindra @PUBG @PUBGMOBILE pic.twitter.com/QR9M4sg1vN

— Fazal (@fzlmuneer) August 29, 2018
#5
@anandmahindra Mahindra Tractors in the phenomenon that #PUBG is. Currently most popular game worldwide. pic.twitter.com/oHqRXMHiW2

— Textrovert (@liveanuragdubey) August 29, 2018
#6
Hello @anandmahindra the tractors in PUBG are from MAHINDRA. pic.twitter.com/mM77CfHMJG

— Ek Kanpuriya (@EkKanpuriya) August 28, 2018
#7
Hey Mr. @anandmahindra , have u heard about the sensational game @PUBG
I felt really proud when I saw Indian tractor Mahindra 265 DI in it.. 🇮🇳🇮🇳 pic.twitter.com/vf14pMZM1a

— Anshul Talmale (@talmale_anshul) August 28, 2018
It was also being talked about on Reddit. Have a look-
#1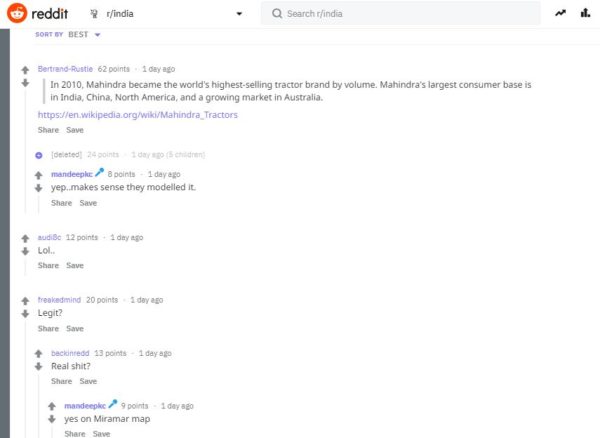 #2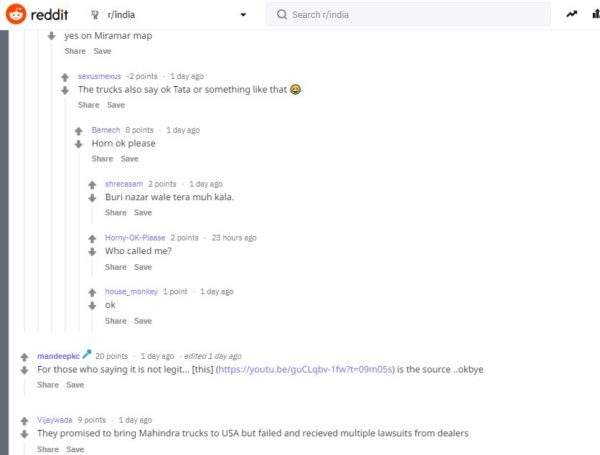 #3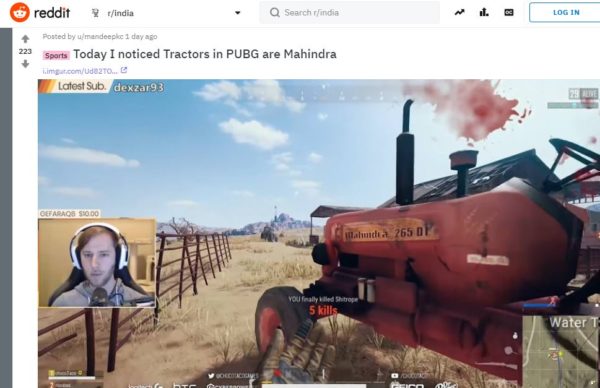 Click Here to check the thread on Reddit.
Isn't that really cool stuff?
Share Your Views In Comments Below