News
A Troller Called Sushma Swaraj "Visa Mata". She Gave Him A Reply And Got His Account Suspended
Twitterati is an equal place when it comes to trolling famous personalities. Be it an actor, actress, sportsperson or politician, everyone is trolled on the microblogging site.
Recently, the External Affairs Minister, Sushma Swaraj and her ministry were attacked by a list of trollers after the EAM transferred a passport official without investigation in the interfaith couple row and subsequently issued them the passports. The official was transferred because he allegedly misbehaved with an inter-faith couple who had come seeking renewal of their passports.
A troller tried to shame Sushma Swaraj calling her 'visa mata' and asked why she is not giving Citizenship status to Hindu and Sikh refugees from Pakistan.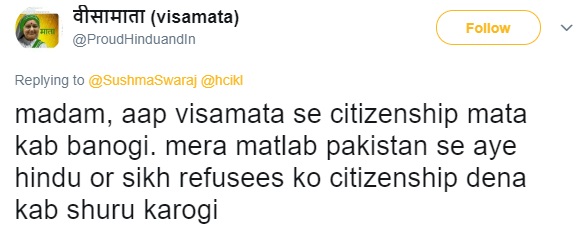 Sushma Swaraj replied him with a soft yet very strong tweet. It read as-
Dear son, Let me bring it to your notice that citizen related matters come under the Home Ministry and not under the Foreign ministry.
प्रिय पुत्र – आपको यह जानकारी दे दूँ की नागरिकता के मामले गृह मंत्रालय के अधीन आते हैं. विदेश मंत्रालय के अंतर्गत नहीं.
आयुष्मान भव https://t.co/l2XU9PpdXQ

— Sushma Swaraj (@SushmaSwaraj) July 16, 2018
The Twitter account of troller was suspended later and it's unavailable now.
Isn't that a stunning answer?
Share Your Views In Comments Below