Entertainment
Akshay Kumar Pulled Off This Amazing Stunt At An Event, Netizens Respond With Hilarious Memes
Akshay Kumar is one of those few actors in Bollywood who is ready to go all out when it comes to promoting his films or shows. He will be making his digital debut with The End which will be streaming on Amazon.
In order to launch his show, he was recently at an event, which was lit, quite literally.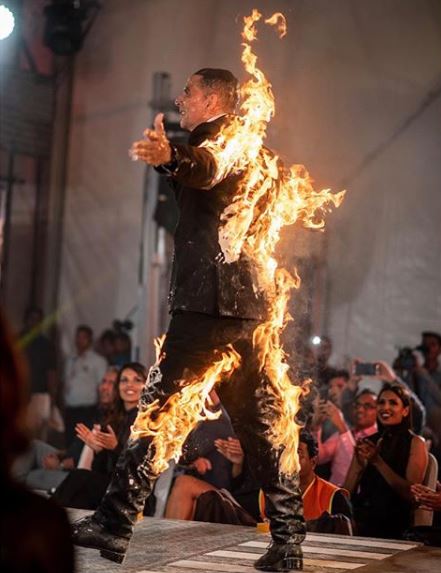 Akshay Kumar was walking the ramp, and he quite literally lit himself on fire. This stunt is probably the first time someone has pulled something like this on stage.
Speaking of the show, Akshay Kumar said that he was quite excited about it. It seems to be a blend of drama, thrills and a whole lot of action which is right up his alley.
Akshay himself tweeted the moment:
And we're off to a fiery start with @PrimeVideoIN's THE END (working title)🔥🔥🔥@JSalke @vikramix @Abundantia_Ent pic.twitter.com/TfKhjLBz6z

— Akshay Kumar (@akshaykumar) March 5, 2019
In fact, his wife Twinkle Khanna seemed taken aback as well. She clearly did not know Akshay would be pulling off something like this and tweeted:
Crap! This is how I find out that you decided to set yourself on fire ! Come home and I am going to kill you-in case you do survive this! #GodHelpMe https://t.co/K7a7IbdvRN

— Twinkle Khanna (@mrsfunnybones) March 5, 2019
While some fans were stunned when he came on stage like that, some felt that this is typical Akshay Kumar. However, his stunt has become immensely popular on social media as it has sparked hilarious memes. Yes, pun intended.
Check these out:
#1
When you're attending your friend's wedding who's ok in looks…but is marrying a beauty queen. pic.twitter.com/qHCwrvXN9T

— Arjun (@iamZoomie) March 5, 2019
#2
Me after eating that momo chutney https://t.co/NPkoTm9Ire

— Harshit (@Harshithappened) March 5, 2019
#3
me pretending everything is fine when my life is falling apart https://t.co/Vz5UMXHMjr

— diti 🌻 (@ughditi) March 5, 2019
#4
Delhi wale in june july…#delhiWaley pic.twitter.com/VlM2Zt5Gsx

— Tushar wason (@sharmaGKaPadosi) March 5, 2019
#5
Guy : I love you

Crush : you're not hot enough for me

Guy : le.. pic.twitter.com/14RehO6xj2

— Pakchikpak Raja Babu (@HaramiParindey) March 5, 2019
#6
Pedestrians on Chennai roads during summer.. #EnnaaVeyiluu https://t.co/rCpv2FMdCc

— Vinu Chandar (@VinuChandarN) March 6, 2019
#7
How the team feels when we are nearing deadlines 🤣 https://t.co/LAG3oizaVB

— Sonaal (@sonaal) March 6, 2019
#8
Me pretending Everything is Going Good.. but deep inside You know how it feels. https://t.co/IafiZOiBS0

— Khushi (@Khushi_Beee) March 6, 2019
#9
Me announcing my unconventional career choices: https://t.co/75NNR0QbpX

— Prayagraj S. (@pisypeace) March 6, 2019
#10
Action Reaction pic.twitter.com/bvtyq05wT8

— Romz (@RomanaRaza) March 6, 2019
#11
Me entering a party immediately after my exams get over! https://t.co/iyLNBZFoNZ

— Gujarati Chokro💭 (@nickybadani) March 6, 2019
#12
He : Aag kese lagi ?

Akshay : Pani ki wajah se

He : What ? How ?

Akshay : Tip tip barsa Pani , Pani ne Aag lagai 😍 https://t.co/4BcqGjZQfE

— [email protected]ᴠɪʀᴀᴊ (@pun_chayti) March 5, 2019
#13
When Mum says cooker garam hai dhyan se and main khud ko khiladi samajhta hun 😑 https://t.co/G0qZLxfV0S

— Harshdeep Ahuja (@harshdeep_ahuja) March 5, 2019
#14
When you have done several patriotic movies to promote Nationalism but still people call you a Canadian. pic.twitter.com/yrROm1rDKC

— Kaju Katli (@MonkNxtDoor) March 5, 2019
Do you have better memes? Share with us!
Share Your Views In Comments Below