Partner
Always Seeking A Little Extra? Here's Why Flipkart's Big Shopping Days Are Perfect For You.
If there's something that can impress us Indians, it's surely "Bargains", "Deals" and "Discounts". The moment we hear these magical words, we can't help but jump with joy.
Indians have a tendency to always expect something extra & once they get, no one can be happier than them. From demanding extra ketchup at McDonald's to the extra Dhania-Mirchi while buying vegetables, there are so many examples to prove that our hearts flutter when we get something more than expected.
Flipkart completely understands and respects this mindset, which is why it has come up with a super-duper sale "Big Shopping Days".
What is Big Shopping Days sale?
Flipkart has always been a leading shopping portal & its offers are just unbeatable. You must have shopped with many big online stores, but we can assure you one thing that none of them can match Flipkart in terms of prices and quality. Indians have fallen in love with Flipkart because they not only get extra monetary benefits but also get supreme quality.
As the name says, Flipkart's Big Shopping Days sale, will really give you BIG discounts i.e. up to 80 percent off and will have some amazing products on offer. You will have to wait for 4 hours extra (Than other sales by competitors) to get something extra as Flipkart's Big Shopping Days sale will start at 4 p.m. on 16th July and will continue till 19th July.
Here are few reasons why this sale is simply irresistible;
1) Best prices
As we mentioned above, products are going to get the best price tags ever. Some of them are available at a whopping 80 percent discount. We have often heard that Flipkart's price is quite less as compared to other e-commerce biggies.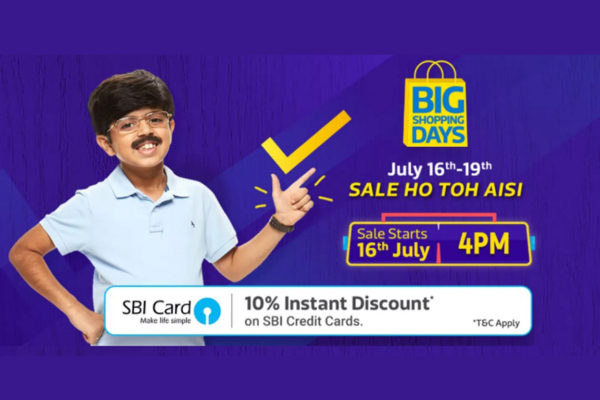 2) Buyback guarantee and exchange offers
This sale is not as casual as you think. If you wish to get rid of your old smartphones, then there are several exchange offers during this period. What are you thinking? Isn't it interesting? Buyback guarantee is cherry on the cake!
3) Highly rated products
Don't think that since the prices are super-low, the product quality would be compromised. In fact, Flipkart is offering an amazing range of products, all of which have high ratings and positive reviews.
4) Rush hour deals
This is a BONUS for all you shoppers. 4pm to 6pm will be the rush-hour deals period & in this, you can avail the best deals as well as know about price crashes. Isn't this unbelievable?
5) Extra benefits
Flipkart's Big Shopping Days sale is not like other online sales, it is much more than that. This sale is a combination of the best prices and top rated products, with super fast delivery and convenient payment options & added other benefits including no cost emi and product exchange. If you are using your SBI credit card, then you'll get an instant 10 percent discount
We believe this is something worth waiting as it will make you start expecting more from sales and say "sale ho toh aisi! (warna na ho)". So keep your shopping bags ready from 16th July 4pm to 19th july!
In association with Flipkart
Share Your Views In Comments Below