Sports
Argument Caught On Stump Mic! Wade Trolled Kohli But He Gave Him A Great Reply!
In the 2nd ODI between India and Australia, Kuldeep Yadav did a hat-trick and impressed everyone. Every match has some wonderful and aweful moments and this is what makes the watch all the more exciting.
Well, one controversial thing that happened in the 2nd ODI was the weird conversation between Kohli and Matthew Wade. Yes, while Kohli attempted a single, the ball reached Wade and his fingers got injured. It also hurt his private part. However, he didn't prefer keeping quiet; between the overs, he said something to Kohli, but the latter gave him a perfect reply.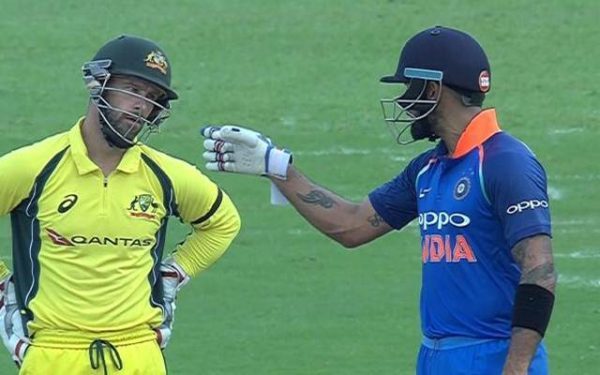 Yes, the stump mic recordings have been caught and you can easily hear this conversation between Virat and Wade.
Wade said, "I might have a cry like you. I might go to the dressing room and have a good cry like you. Everyone has to feel sorry for you." Basically, he referred to the shoulder injury of Kohli during the Ranchi test, due to which he took a break from the match.
But wait, our Kohli is also no less. He shut him down with a perfect reply. Kohli said, "Did anyone from my side mock you ? "
This reply was enough to shut Wade's mouth. If you want to watch the video, here you go;
Click here to watch the video on BCCI website
The Australians never leave out a single opportunity to take a dig at our Captain. Earlier, even Glenn Maxwell and Steve Smith had tried trolling him but had got it back from his fans.
Share Your Views In Comments Below