Sports
Australian Journalist Insulted Kohli & Said He's Scared Of Pak Bowler. Got It Back From Twitter
Dennis Freedman has been an Australian cricket writer but time and again, he keeps posting controversial content that doesn't go down well with cricket fans.
If he keeps his tweets neutral, no one would have a problem, but no, he every time chooses to insult someone or the others, especially Indian cricketers. Often, his posts have stirred a controversy; remember how he tried trolling Virat Kohli by calling him a sweeper?
Yes, he had posted a picture of Virat sweeping the ground and used the word "Sweeper" for him. Of course, he got it back perfectly from Twitterati. However, he didn't stop there. He went further and insulted the Indian map too by comparing it with women's lingerie. Looks as if he's not satisfied with insults; once again, he took to Twitter to make fun of Virat.
This time, he posted a pic of Virat, in which he's giving a surprised reaction. Dennis captioned the pic as "When you walk out to bat and see Amir has the ball"
Here's the tweet..
https://twitter.com/DennisCricket_/status/912248443908718592
Here's the pic in case the tweet isn't loading..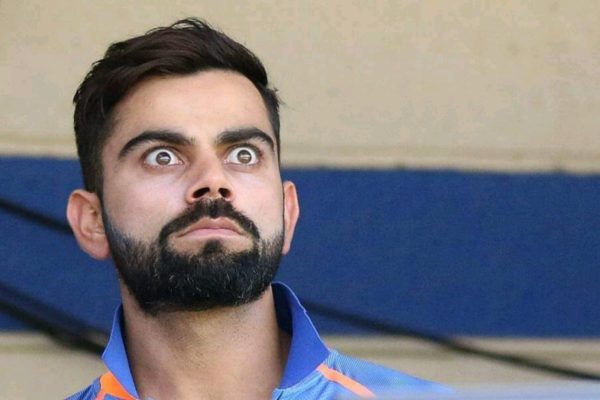 He meant that Kohli is scared the moment he realizes that Mohammad Amir is the bowler. Lol, do you even believe him?
As soon as he posted the pic, reactions started flowing in from Twitter…
That's Pakistan's reaction!
That's pakistan's reaction eachtime when they face India in Worldcups😛11-0

— Kaptaan Kohli (@siedry_) September 25, 2017
Never forget!
never forget the day sorry day's to be precised of Pakistan's nightmare 2007 t20 wc 2011 wc 2015 wc 2016 t20 wc

— jay gandhi (@jaygandhi67) September 25, 2017
Smith's reaction!
Smith's reaction when he sees all the batting records embracing Kohli lol

— Kaptaan Kohli (@siedry_) September 25, 2017
The information giver!
https://twitter.com/Dsinhasono/status/912504640515620864
Are you jealous?
No doubt he is great limited over's player but poor record in test . Why you guys jealous of VK that much I can't understand this (2/2).

— VIRAT KOHLI (@iamVKtheking) September 26, 2017
Got nothing new!
This @DennisCricket_ is totally obsessed with @imVkohli .got nothing new to post! #sickhead

— M€M€$aheb 💖 (@DaCraftyGal) September 27, 2017
Hahaha!
And when Australians see dis man coming to bat and they don't know which ball to bowl. Poor ausies.

— Vivek Tanna (@vivektanna2) September 25, 2017
LOL, this was hilarious. People are not going to tolerate such insulting tweets for Kohli. Glad that he got it back perfectly.
Share Your Views In Comments Below