Politics
BJP Makes 5000 KG Khichdi To Attract Dalit Votes. Gets Trolled On Twitter
Ahead of 2019 Lok Sabha elections, both BJP and Congress are busy promoting themselves. No party wants to leave any chance to impress the public and hence putting their best foot forward.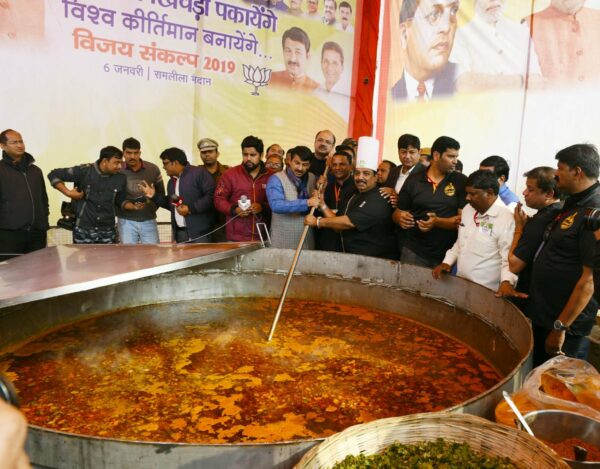 Recently BJP organised a Bhim Mahasamagam event at Ramlila Maidan and cooked 5000 KG Khichdi to impress Dalits and attract their votes.
The Khichdi was prepared in a single utensil with 400 kg of rice, 100 kg of lentils, 350 kg of vegetables, 100 kg of desi ghee, 100 litres of oil, 2,500 litres of water and 250 kg of spices.
BJP was eyeing Dalit votes and a record in the world record in Guinness but all they have received is criticism. People on Twitter reacted negatively against this activity of BJP. Have a look at some reactions-
#1
Hadd hai besharmi ki, khana dena to door raha ab apni rallies ke liye khana bhi logo se le rahe hain!

— SDA (@shadabtyagi) January 6, 2019
#2
Congress should prepare 'Kheer' with Rice collected from Janeodhari Households & milk collected from Gaushalas…🤔

— Devender Prasad (@deven94123) January 6, 2019
#3
Janta ko bevkoof bna sakte h sc St logo ko equalty chahiye

— sunil kumar choudhary (@sunilku18971040) January 7, 2019
#4
Itne burey din bjp k liye ki public bulane k liye ab khaney ka lalach…

— Ritesh Kumar (@ritesh1623) January 6, 2019
#5
Bhai #patnjali ka masala, namak, tel istemal kr lena..

— Shivam Gupta (@Shivamg8130) January 6, 2019
#6
enjoy free meal……. BJP/RSS guys must give one stray cattle to each of the invitees to take care at their homes,

— jmr (@jmrtamilan) January 6, 2019
#7
Only publicity and Marketing
No governance
No rule
Only Vote bank Politics

— Sanjay Sureka (@Uncommon05) January 6, 2019
#8
😂😂, खिचड़ी भी खायेंगे और वोट भी नहीं देंगे ।

— Jack (@perryellsss) January 6, 2019
#9
खुद! …काजू और मशरूम खाओ।

और जनता को #खिचड़ी?!

— peace lover..👈 (@vky0038) January 6, 2019
What's your take on this?
Share Your Views In Comments Below