News
BJP Said PM Will Cancel Election Rallies After Pulwama Tragedy, But He Didn't. Here's The Truth
On Friday, BJP's Sambit Patra announced in a surprise news flash that the party would be cancelling the two rallies that were meant for Narendra Modi, in light of the Pulwama tragedy.
Modi was scheduled to organize two election rallies in Dhar and Itarsi today and tomorrow. However, these rallies were thereby cancelled and Patra also claimed that Modi would now be focusing on only important government issues.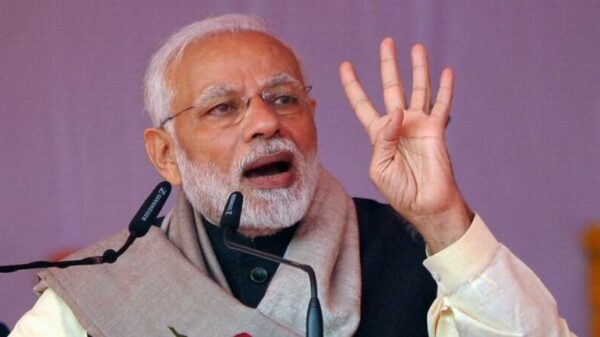 This was an attempt to show that the BJP government headed by Modi was grieving the loss of the 40 plus CRPF jawans, and that the gesture was in good faith. However, soon after, the actual scenario turned out to be something entirely different.
Modi was soon seeing flagging off the Vande Mataram Express and then proceeded to attend to other such "important" events. Other ministers like Yogi Adityanath refrained from making overtly political statements during such a mourning period, but Modi had something else on his mind.
PM Modi lays foundation stone and inaugurates development projects at Jhansi, Uttar Pradesh. https://t.co/hn4YZnoC5p

— BJP (@BJP4India) February 15, 2019
Modi, in his flamboyant speech, thanked the voters in Uttar Pradesh for their support in 2014 and even asked for their blessing for the upcoming 2019 elections.
Modi lauded his supporters in Uttar Pradesh and stated that they contributed to his landslide victory in 2014. He also mentioned that he had full faith, the same supporters would support his mission for a New India in 2019 as well.
In fact, a lot of people felt that this was nothing but cheap publicity and that Modi should have at least waited for this tumultous period to subside.
Someone said it was nothing but publicity and an attempt at propaganda:
For BJP election campaign , propaganda and PR never stops no matter what.
This is Shameful @narendramodi

— Vinay Kumar Dokania (@VinayDokania) February 15, 2019
Another user said that a better utilization of this time would be visiting the families of the jawans:
अच्छा होता,आप झाँसी में प्रचार प्रसार के बजाय शहीद के परिवारों से मिल आते😠

— चिN2 KUMAR (@ChintuK99458222) February 15, 2019
Others agreed:
Inko bilkul bhi sharam nahi aati, lanat hai aise PM par #PulawamaTerrorAttack #RIPBraveHearts

— Tejas K (@tejjINC) February 15, 2019
Our question too:
Shamelessness has no limits . Can't even wait for the cremation of martyrs ?

— Dr Luttapi (@Mayavi101) February 15, 2019
This is hypocrisy at its best:
Waah modiji… kya shradhanjali dere jawano ko

— Safder Aadeez (@safazim) February 15, 2019
In other words, there is a startling difference between what the Modi government says and does.
Share Your Views In Comments Below