News
Businessman Dismantled His Mercedes To Save A Cat. His Story Will Restore Your Faith In Humanity
Humanity has not lost in the world yet. For those who value it, it's still a top priority to be human no matter how much it costs.
Gujarat based Jayeshbhai Tailor who is one of the top fish exporters in the state was recently in Mumbai for his daughter's interview. To save a cat there, he dismantled his Mercedes and proved that Humanity is still alive.
How did he do it?
While moving from Bandra Kurla Complex (BKC) to Shiddhivinayak Mandir, the family members including their dog heard a loud voice of a cat crying. As they opened the window mirror, the voice increased.
This is when they got off the car and try to see if the cat was lying below the car. It was not there and Tailor found that it was near the engine. Now, this was a tricky situation and Tailor decided to cancel everything and save the cat first.
Police was called for help
Police arrived for help and even locals collected there but nothing could be done to rescue the cat. That's when Tailor decided to take the car to Mercedes service station. Sadly, nothing helped and even after banging the car, the cat didn't come out.
Tailor took the hard step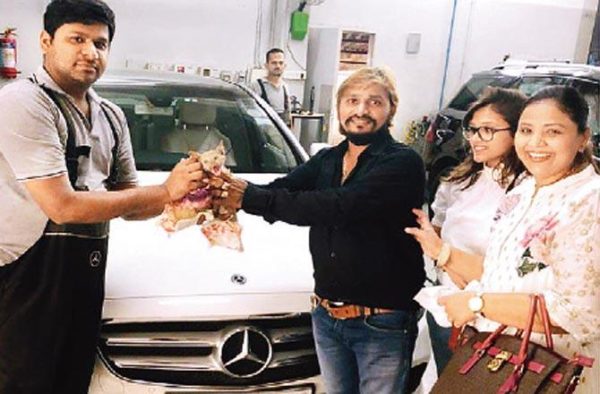 As he found that nothing was working, Tailor asked the service station to dismantle the Mercedes and rescue the cat. You will be surprised to know that the whole process took 6 hours and Tailor despite being such a big businessman was patient enough to complete the poor animal's rescue.
After rescuing it, they took the cat to an animal shelter and finally went to Siddhivinayak Temple.
Is there any word enough to appreciate the man?