News
Customer Orders 50-Inch TV & Finds Out It Is Just 44-Inch When Measured But There's A Big Twist
Online shopping has become a part of our lives now and apart from small things, we prefer to purchase even big items such as TV, refrigerator, washing machine, laptop, etc. also online despite the fact that they are costly and there is always a risk of getting a faulty piece. One of the best ways to find out about the product is to read reviews as they give you an idea about the quality of the product but do you really think that these reviews give a true picture? It is being said that some reviews are paid as well so we just can't believe each and every review but the good thing is that there are some genuine ones as well plus you can certainly believe the reviews in which customers post photos too.
However, there are times when you need to be careful even if you are reading and believing a review written by a genuine customer because sometimes customers are unaware of the technicalities.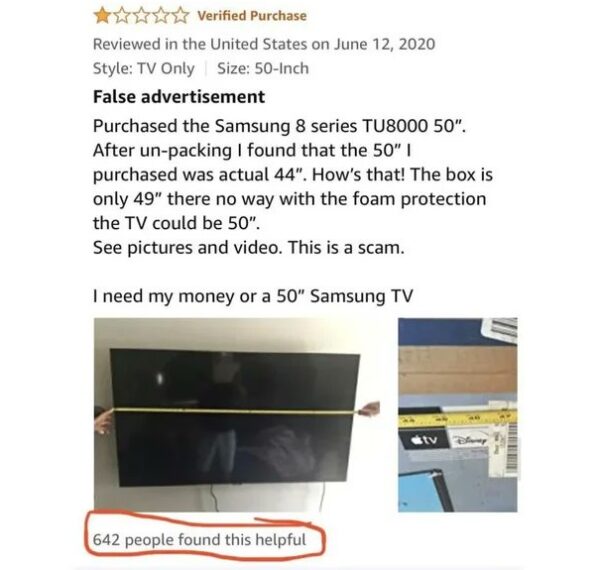 A person purchased a 50-inch TV online but when he measured his TV, he found out that it was just 44 inches and he claimed that he had been cheated by the company. He also wrote a negative review with the title "False advertisement" under which he wrote that he measured the box of the TV and it was 49 inches, so how can the TV inside it be of 50 inches especially when it is packed with foam protection. He asked the company to refund his money or give him 50-inch TV and this review was found as helpful by more than 600 online users.
A Twitter user shared it with the caption, "We're gonna go extinct. Change my mind."
We're gonna go extinct.
Change my mind. pic.twitter.com/MXQUPVcaBV

— Sven Henrich (@NorthmanTrader) November 20, 2022
While some of us may feel that the company has cheated the customer but that is not the case. Not many people know that TV is measured diagonally from corner to corner and not from side to side and this is where this customer got things wrong.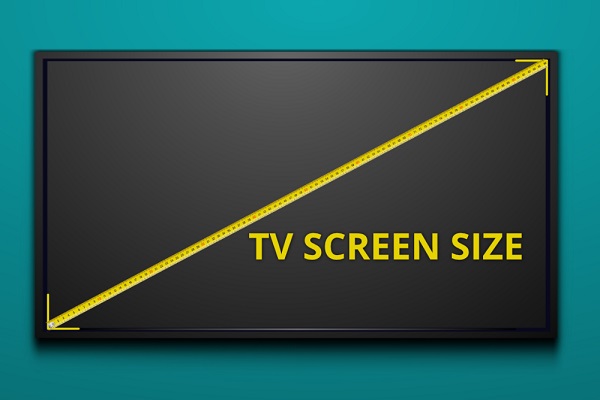 Here are some selected reactions:
It is not common knowledge to measure a tv corner to corner. And slight over sights like this happen all the time. Even the smartest person in the world has these moments. Welcome to what is know as how people learn.

— HarryPotato (@HarryPotatoGS) November 20, 2022
Yes, common knowledge. I was aware of that at age 16. It's amazing what you can learn by reading.

— Richard Blakeslee (@RichardBlakes7) November 20, 2022
You measure TV's on the diagonal upper right corner to lower left corner for example. Its common knowledge

— Marc Munoz (@RMarcMunoz) November 20, 2022
-I love the people in this thread going "Oh, that's *not* common knowledge.." (They're wrong.)

— Matt Finley (@Dirtfarmr) November 20, 2022
While some online users are fighting over that it is common knowledge or not, one online user straightaway asks as to why TVs are measured diagonally and he himself answers it as well in order to increase the knowledge of netizens:
But why are tvs measured diagonally?

— Vikas Deolaliker (@vdeolali) November 20, 2022
Because originally they had a electron gun which refreshed the screen and end of the scan , the gun travelled diagonally. So why measure flat screen tvs the same way? Maybe those 642 people are the only ones that have evolved!

— Vikas Deolaliker (@vdeolali) November 20, 2022
Some further contributed to it:
BC diagonal measures gives you a more accurate perception of "visible area". Linear measurement wouldn't mean nothing in a world where there's a lot of different aspect ratios.

— Club de fans de México 🇲🇽 (MORENA version) (@tenispirata) November 21, 2022
Did you know before reading this article that TVs are measured diagonally?