News
Delhi People Are Sharing Pics Of Monitor Lizard Spotted At Their Homes & Twitter Goes Crazy
The increasing pollution and development has made an adverse impact on the natural surroundings of the planet Earth and humans have also been experiencing the effects of ecological imbalance in the form of global warming. However, the last three months were pretty good for the Mother Nature as all the commercial and economic activities got stopped due to the coronavirus pandemic. There was no pollution as very few vehicles were on the road, all the industries were closed and people were forced to stay inside their houses.
Amidst the COVID-19 outbreak, some wild animals were seen in the cities roaming in a relaxed mood and such sightings made people very happy as well as amazed. However, a tweet was made by IPS officer HGS Dhaliwal in which he posted a photo which made some people scared. The photo featured a monitor lizard roaming in someone's house.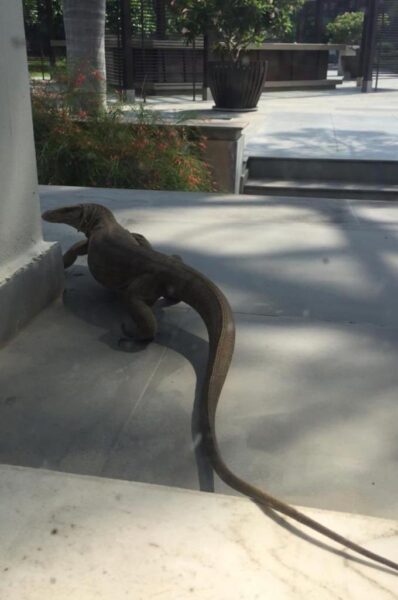 He captioned the tweet, "Spotted at someone's home in Delhi!!"
Here is the tweet:
Spotted at someone's home in Delhi!! pic.twitter.com/4HG9vMhQ7V

— HGS Dhaliwal (@hgsdhaliwalips) July 9, 2020
Monitor lizards have been registered as a protected species under the Wildlife Protection Act (1972). It is being said that this huge lizard is a little shy and likes to remain far from humans. Though it is not heavily poisonous, it does fight back if it senses risk to its own life.
Then a Twitter user revealed that it is a common sight in the Chattarpur area which is near the Aravallis and he also talked about the probability of the photo being clicked from a house from that region only. The IPS officer confirmed that the house is in Chattarpur area.
Yes. Chhatarpur area

— HGS Dhaliwal (@hgsdhaliwalips) July 9, 2020
Twitter got quite excited seeing such a giant lizard and while some people talked about spotting it at some point in their lives, many others expressed their fear while several netizens guided others that it's not harmful if a person doesn't attack it.
This is how Twitterati reacted:
#1
not a big deal here at the backyard of my home I daily spot one such kind. Humare himachal mein toh aise har jagah MIL jaayegi

— GUNJAN SHARMA (@GUNJANS08023060) July 9, 2020
#2
Definitely someone's pet like this guy at Firozshah Road pic.twitter.com/ikkXStERxF

— Lion A.K.A Sher (@Terriiblr) July 9, 2020
#3
That home should be called Jurassic Niwas 😐

— Kailash Chatterjee (@kailash_c27) July 9, 2020
#4
No, monitor lizards are not poisonous. In fact its an endangered species under wildlife protection act.

— Avijit Saxena (@avijitsaxena87) July 9, 2020
#5
If I come this much close to them I'd definitely faint. 😅

— Ankit (@OyePizza) July 9, 2020
#6
Not poisonous at all, please don't spread false rumours. Only venomous lizard in the world is found in America, called gila monster.

— Desh-Bidesh (@bidesh_desh) July 10, 2020
#7
Nah , it's just monitoring the lockdown 😂

— Partha (@380arjun) July 9, 2020
#8
Monitor.
One in my garden last week too. Comes every year around the same time …then disappears for the rest of the year.

— Nandini 🇮🇳 (@NAN_DINI_) July 9, 2020
#9
Hey…saw this outside my place of stay in Dhamra (Odisha).

More importantly, while i was a bit scared, kids were playing with it…🙄🙄 pic.twitter.com/diGnxcIPBD

— Siddhartha S Anand (@sid_s_anand) July 9, 2020
#10
the dream is to be a monitor lizard and walk around Delhi without any worry 😌 https://t.co/lIU44SMXck

— annoyed (@uhnunnya) July 10, 2020
Have you also seen monitor lizard?
Share Your Views In Comments Below