Sports
George Bailey Takes Everyone By Surprise With His Weird Batting Style. Must Watch The Video
Cricket fans are witnessing some really weird things in front of their eyes these days. Pakistani batsmen strike 5 runs in single ball against New Zealand even when the ball has not touched boundary, a Uttar Pradesh bowler turns 360 degrees before actually delivering the ball and a lot more stuff.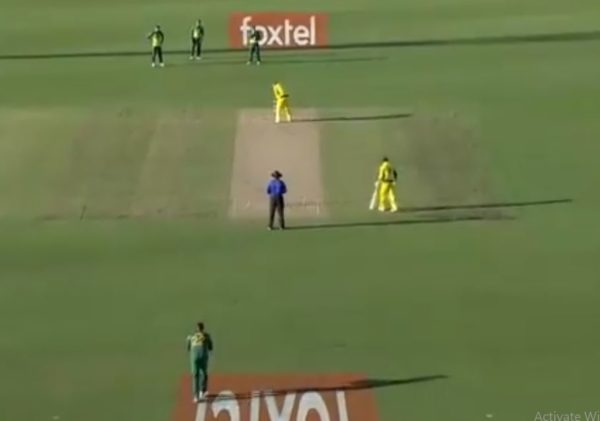 Now, something equally weird has happened again. George Bailey left everyone surprised while playing for the Prime Minister's XI in a tour match against South Africa in Canberra.
While facing the ball, George stood in a really unique yet weird way which left everyone among the opposition players and commentators laughing. It was a shock to see George standing with his back pointing towards the bowler and many of the fans left wondering if it is even allowed. Watch the video yourself-
Faf having a cheeky giggle in the slips at Bailey's extraordinary stance 😂 pic.twitter.com/q30H7chZeP

— cricket.com.au (@cricketcomau) October 31, 2018
Click Here to watch the video directly on Twitter.
This is how Twitterati reacted after watching the video-
#1
Ban him for illegal batting action 😁

— MSM (@SamiMahesar1440) October 31, 2018
#2
Ridiculous, he then goes back to normal stance as ball being released.

— David Pettigrove (@DJP69) October 31, 2018
#3
and what if left arm bowler bowls? will he be looking at the big screen to see the bowler?

— Eshan (@_eshan) October 31, 2018
#4
— Matt (@mattymaclaren) October 31, 2018
#5
He ruined his career just Bcz this stance

— SODHI KARAN🇦🇺 (@Auscriclover) October 31, 2018
#6
Well done George 😂

— Marudhu Mccullum (@DevaMarudhu) October 31, 2018
#7
Is this lawful

— Damien Bastock (@DCJMB63) October 31, 2018
#8
He'll be facing the keeper soon, disgraceful.

— Miles Rajander (@Miles_raj) October 31, 2018
Isn't that really surprising?