Entertainment
Groom Plays PUBG In His Own Wedding Ignores Wife And Guests
PUBG is the current favourite game of every gamer. The game makes you a crazy addict, every time someone kills you in the battlefield to take the revenge of not winning the chicken dinner we continue playing it for crazy long hours. Though now you can play PUBG for only 6 hours a day.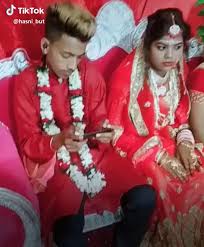 A video has gone viral on social media, where an Indian groom can be seen playing PUBG Mobile at his own wedding. He ignored his bride even the gifts handed to him by a guest.
The groom looks young, wearing a red kurta with a garland around his neck. The young bride was seated on a stage alongside his husband and was seen staring blankly at her husband who was engrossed in the game.
The groom even pushed away a gift offered by a guest when interrupted from playing the game and was seen losing his temper.
Well, we are not sure if it's a real video or a staged one like the several videos that are uploaded on the video-sharing app TikTok.
PUBG has a fanbase of different age groups from across the country, and all around the globe.PUBG obsession has gone so far that PUBG themed weddings to restaurants are happening. Even recently there was a news that a kid wrote in his exam papers how to play PUBG.
Even though there are bans imposed on the game in a few states like Gujarat, Rajkot.
Also, many students were arrested for playing the game, a week after the notification was issued on banning the popular game.
Share Your Views In Comments Below