News
Guy Applied For Internship At Cred In So Innovative & Creative Way That It Went Viral Instantly
Every job aspirant wants to get his dream job and he does a lot of hard work for it but it is not so easy as there is cut-throat competition among the candidates. In such a scenario, the chances of a person to get the dream job will increase manifold if he proves himself better, more innovative and creative than the other candidates.
Nowadays, social media platforms have given us a chance to express ourselves in a far better manner than the older days and we can use them to display our strengths and skills. In the modern times, some of the candidates have chosen not to apply for a job by sending the two-page curriculum vitae but they are thinking out-of-the-box and coming up with creative ways which are making it tough for the employers to ignore them.
You must have heard about Cred, an organization which gives rewards to its customers when they pay their credit card bills on time and also provide them with various offers. Recently, it stole all the limelight because of the advertisement in which the former Indian cricketer Rahul Dravid was featured and now it is once again making headlines in the social media networks because of a person named Avkash Shah who wants to do internship in Cred.
Avkash Shah is basically from Mumbai and he is a 3D Graphic designer who wanted to do internship in Cred. Like everyone else he didn't apply with the same old method but posted a 3D motion video on Linkedin with the caption, "I want to intern at CRED. Here's my application. I figured that if I was going to apply, I'd make something worth it. It pays to be good. Cc: Kunal Shah Harish Sivaramakrishnan"
One of the best internship application I have seen so far in my career

Here's the LinkedIn post – https://t.co/cDlzcyPI5O

— Parth Suba (@parthsuba77) June 3, 2021
Soon the motion video was viewed by Cred founder Harish Sivaramakrishnan and Avkash Shah was offered internship at Cred.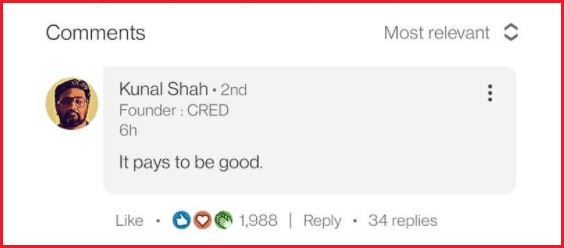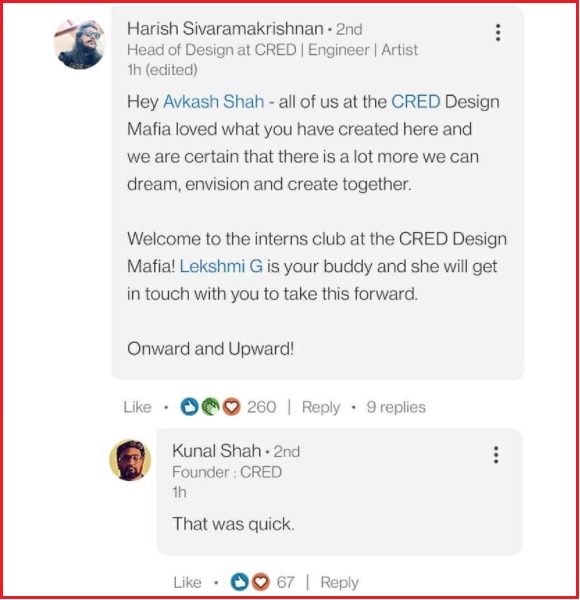 It seems that a new trend will start now as people will try to be more creative while applying for a job. Good luck Avkash Shah.
Share Your Views In Comments Below