Extras
Guy Didn't Receive Food Order! His Chat With Zomato Customer Care Is Hilarious & Flirty!
Zomato is one of the most popular online food ordering apps and there are many reasons for it. One of those many reasons is they value customer's time.
If you are a user of Zomato app, you must have noticed the regular notifications they send regarding the status of the order. Their customers also get the notification to confirm if they've received the order or not. And if the answer is "No", they take it quite seriously and contact the restaurant to ask the reason.
Zomato has a dedicated chat option, where the customer care executive chats with the user and informs him/her about the status of the order and the reason behind the late delivery.
However, this time the conversation of one such user with customer care executive turned just too interesting and in fact got a personal touch.
The user himself shared the wonderful experience on his Facebook and added some brownie points in the food app's kitty.
Here's what he wrote along with the snapshots of the conversation–
Dear World,
Behold the most interesting Zomato chat.
This indeed was the best Bot chat/customer support chat I ever had. WAY TO GO ZOMATO, you got some funny wits on keyboard. Thanks for 400 credits. #zomato. Laughed hard all way through it. Swiggy- Pay heed now.
1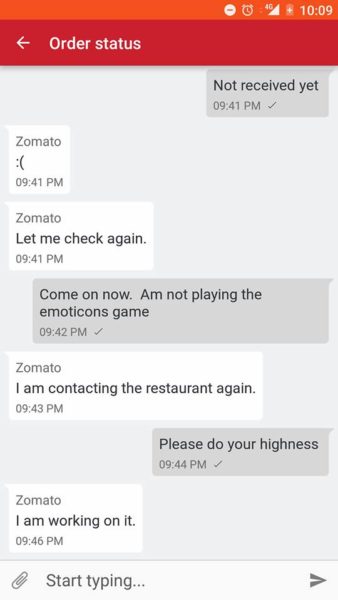 2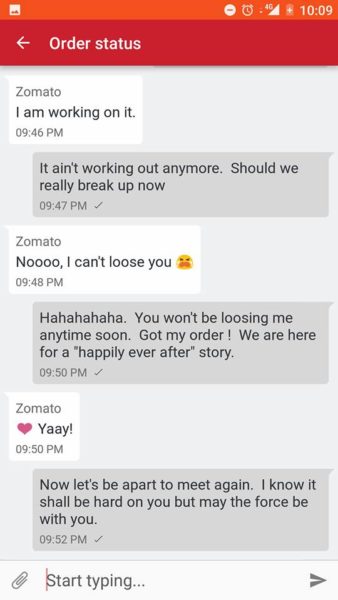 3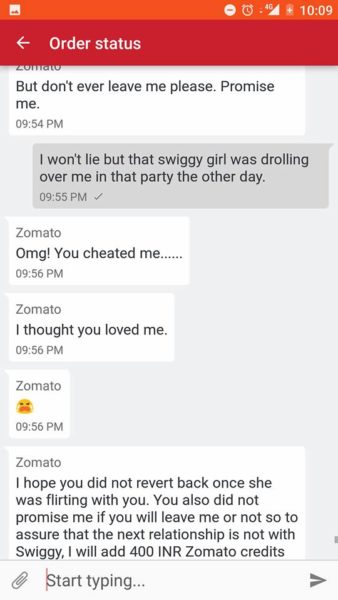 4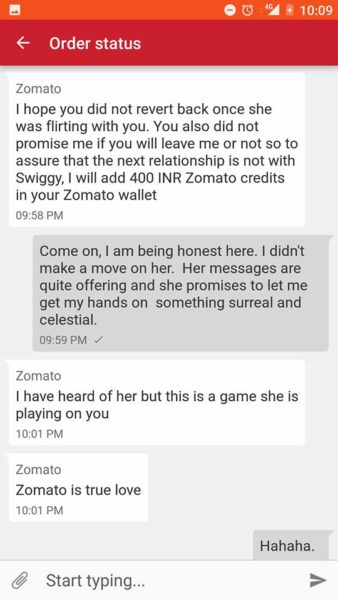 The post went viral and got hundreds of shares. Zomato must be really happy here and the competitors must be jealous. What do you think?
Share Your Views In Comments Below