News
Indians Are Slamming Modi's War Memorial Speech, They're Calling It 'Cheap Personal Politics'
On Monday, Prime Minister Narendra Modi inaugurated the National War Memorial in New Delhi, where his speech touched upon some crucial points like the Rafale deal or even Rahul Gandhi.
However, while some lauded the move of unravelling India's very first war memorial, a lot of people are saying that this is nothing but a cheap publicity stunt.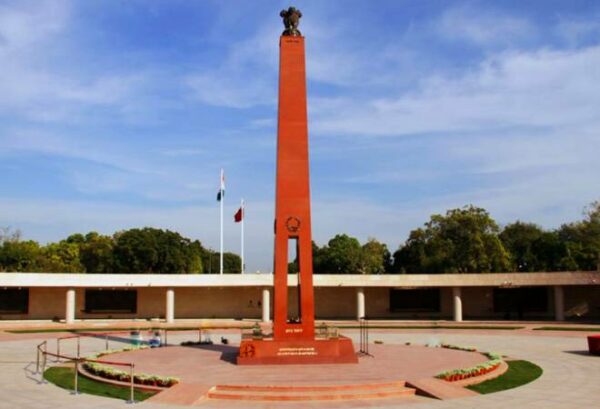 In fact, a lot of war veterans have resorted to social media to express their discontent. According to them, Modi's speech was highly politicized and that he had ulterior motives behind the inauguration.
According to Indians online, Modi was using the war memorial as a means of winning people over, and in order to secure votes in the upcoming elections.
A lot of people are saying that this is a new low, as far as Modi is concerned. This is all the more so since the country continues to mourn the 44 soldiers who were martyred in Pulwama on 14th February.
In such vulnerable times, Modi should have been slightly more sensitive while making his speech. A little bit of subtlety and sensitivity never hurt anyone.
This is what some war veterans had to say online:
#1
Some are so greedy for the chair, they are prepared to stoop to any low. For them even a sacred place like War Memorial is an opportunity to score political points. https://t.co/y7TEk3L5Gy

— Col Dinesh Kumar (@kkhushal9) February 25, 2019
#2
Decorum must have been maintained by @narendramodi ji at inauguration of National War Memorial… It is not a place to make political speech… His speech is totally political..

— Col Ashok; Veteran (@ashokkmrsingh) February 25, 2019
#3
Disgraceful @narendramodi ji you have used an event of inauguration of National War Memorial for petty party politics… You did not maintain decorum… Sorry…. It is not a place to give political speech… It is an event of National significance..Sad..

— Col Ashok; Veteran (@ashokkmrsingh) February 25, 2019
#4
It was very unedifying of Modi 2 use the solemn occasion of inauguration of the war memorial 4 political purposes by making a political speech. Just not done. And who were the gents shouting Modi Modi ? Modi is simply using the AF's 4 votes.Otherwise we R of no consequence 2 him

— K J Singh (@kjsingh2) February 25, 2019
Other eminent personalities also felt the same:
#1
New low. Can't Modi stop his cheap personal politics at solemn national occasions #WarMemorial https://t.co/xBVogzTdcV

— Swati Chaturvedi (@bainjal) February 25, 2019
#2
This is an outright political speech best suited for an election rally, not at the opening of a national war memorial. https://t.co/WGiCb1B0gn

— Sreenivasan Jain (@SreenivasanJain) February 25, 2019
#3
Truly beautiful war memorial. PM speech was long on politics and grievances, could have done with some positivity and more references to the amazing work our forces have done in each war, to be honest. Felt like the wrong speech for the occasion. https://t.co/H0xWL4MRGb

— Suhasini Haidar (@suhasinih) February 25, 2019
#4
A war memorial should be what a war memorial is meant to be: a solemn place for remembering our martyrs. If we make it a political battlefield we are doing grave injustice to their memory.. #WarMemorial

— Rajdeep Sardesai (@sardesairajdeep) February 25, 2019
What are your opinions on this? Share with us.
Share Your Views In Comments Below