The Kathua incident in which an 8 years old girl was gang-raped and murdered has left us with heads hanging down in shame. It also compelled us to think what the future of this country will be when the present is so cruel and disgusting.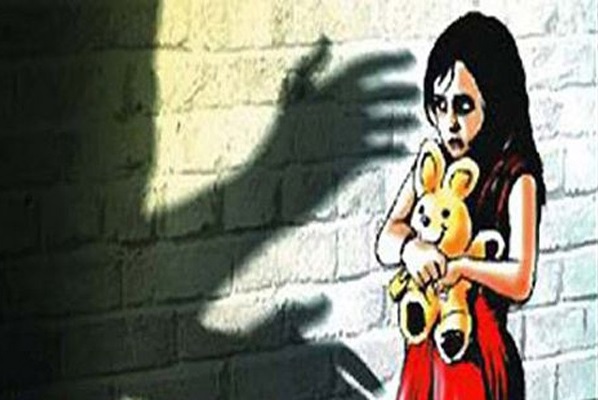 There are many stories doing rounds on social media networks regarding this case in which police has arrested eight people including two police officers. According to one story that was going viral for the last couple of days, the girl was not raped before murder. This story went viral on social media after some leading dailies such as Dainik Jagran published an article on it.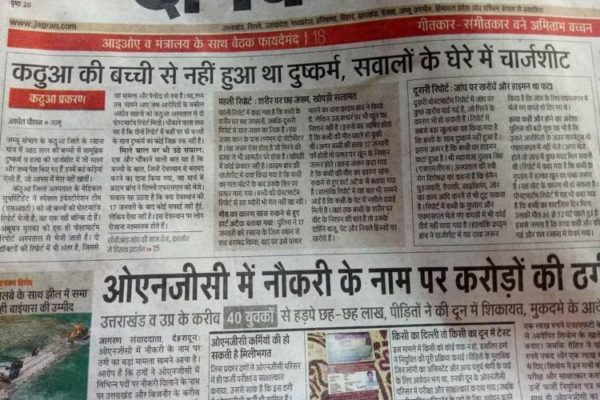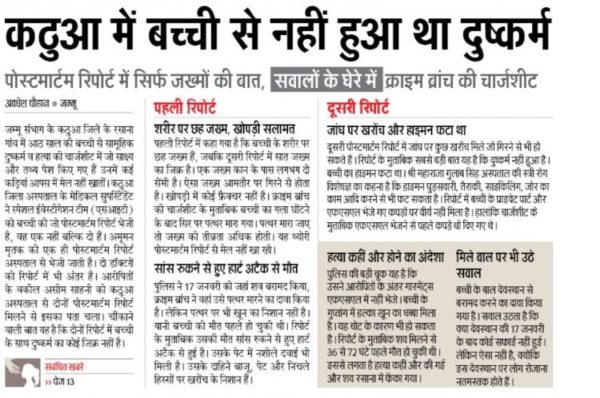 However, the J&K cops differ completely with them and here's what they said in a press release,
"Constrained by the reportage, it is to place on record that on the strength of opinion furnished by medical experts, it has been confirmed that the victim was found subjected to sexual assault by the accused."
The statement further read, "the medical expert has also opined that hymen of the victim was not found intact" and it also maintained that the charge of gang-rape has been added on the basis of medical opinion.
The J&K police added,
"In addition to this, medical opinion has established beyond doubt that the victim was held in captivity and administered sedatives and her cause of death was asphyxia leading to cardio pulmonary arrest."
Here's the press release: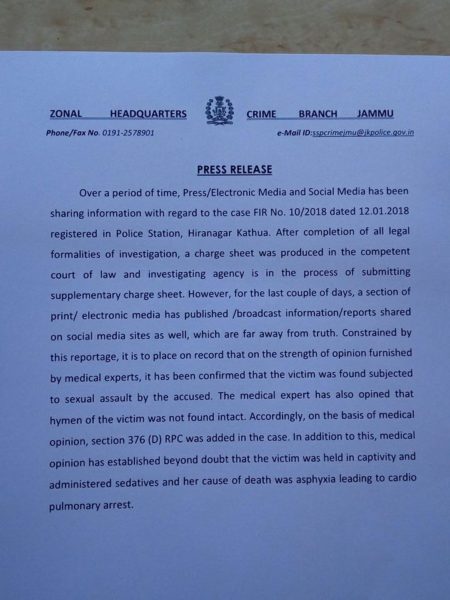 Check out their tweet:
Press release….Case FIR No 10/2018 dated 12.01.2018 Police Station Hiranagar Kathua. pic.twitter.com/ek2IsXDpsa

— J&K Police (@JmuKmrPolice) April 21, 2018
The cops have also denied the news of two post-mortems and as per News18, as the clothes were washed, the Srinagar forensic science laboratory was not able to find any proof of the crime but when these clothes were sent to Delhi FSL, they confirmed that there is blood on the clothes and after DNA profiling, it was established that the victim suffered sexual assault as there was blood on her private parts.
DNA profiling helped a lot in establishing the involvement of the accused who have been arrested by the police.
The leading dailies should confirm the authentication of news before publishing it because with such huge readership, they can't afford to publish fake news. What do you have to say in this connection? Let us know your views.