Bollywood & TV
KRK Takes A U-Turn About His Cancer Tweet And Says He Will Not Die. People Are Trolling Him Badly
KRK claims to be the most honest person in the industry. As per him, no one can match the honesty he claims but at times he has come out to be a big lier.
KRK was earlier banned from Twitter for using offensive language against famous personalities and films. After this, he did a lot of drama but nothing worked out in his favour. Finally, he had to settle down and use Twitter through his another account i.e KRK Boxoffice.
On 3rd April, KRK through the mentioned Twitter handle shared a press release. In the press release, he mentioned that he is suffering from stomach cancer 3rd stage and will die soon. Some people believed him while others thought that it's just another way of him to gain attention and publicity.
Now 5 days after that tweet, KRK has shared another press release in which he has taken a sharp U-Turn.
KRK has now claimed that after checking with more doctors, he has found that he is suffering from 1st stage cancer not 3rd. KRK has also said that he will not die and his life can be saved with treatment. He wrote-
Perfect and 100% final and accurate reports got by 3rd Hospital. I am having only 1st Stage Cancer. According to Doctors I will be 100% perfect within 6 months. It's proof that don't trust doctors without checking at 2-3 hospitals! Thanks to all of you for Good Wishes. KRK
Take a look at the press note-
This is KRK's Press release about his health condition. pic.twitter.com/irc4jbobmQ

— KRKBOXOFFICE (@KRKBoxOffice) April 8, 2018
You can also check the picture below-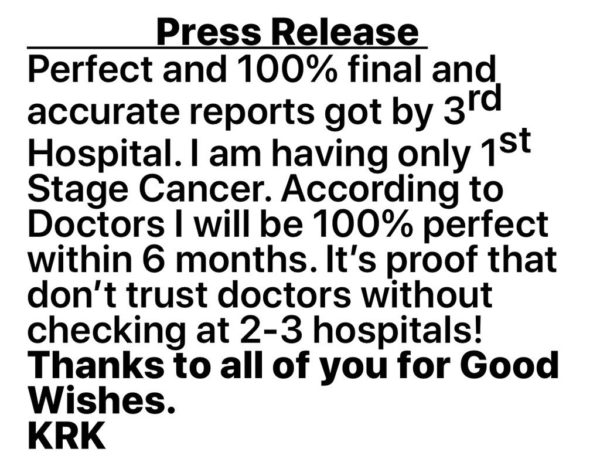 KRK was badly trolled for this tweet. Here's how people reacted-
1
If you using Cancer as a tool to get publicity you really are sick. My brother died from this disease. I pity you #KRK. Why don't you go to the cancer wards in a hospital or to a cancer charity & see what real patients & their families go through. So sad & shameful

— Aaz (@AazMedia) April 8, 2018
2
Publicity gimmick……very poor

— sachin (@doc_sachin) April 8, 2018
3
Jo first wale doctor ne check kia tha usne report me apne dil k bhadas nikali hongi….

— SaNa 🦋 (@sweetsanaya786) April 8, 2018
4
Very sad news .Socha tha dharti se bojh kam ho jayega

— Param (@movie_buff38) April 8, 2018
5
Koi insaan itna kaise gir sakta hai! Zindagi ka bhi mazaq banaya hua hai.

— a. (@izastweets10) April 8, 2018
6
Very disappointed. Don't use your health as cheap publicity

— Ravi (@Ravisrkian) April 8, 2018
7
Kyu jhoot bolte h!!! Sirf news main rehna h!!! Jis din post kiye the usi din pata tha ki jhooti khabar h!!! Jao case karo nhi to chullu bhar pani lo aur aage pata h kya krna h

— saddammahmood (@saddammahmood) April 8, 2018
What are your thoughts on it?
Share Your Views In Comments Below