Food
Man Surprises McDonald's Staff By Ordering Monstrous Size Meal Worth Rs 1.86 Lakhs
There is no denying the fact that the food and restaurant industry suffered a lot, just like many other businesses, during the coronavirus pandemic as numerous restaurants got shut down and a good number of people who were associated with this industry lost their jobs as well.  However, now the things are getting back to normal slowly, people have started eating out and the restaurants are once again trying to provide their customers with tasty food and complete value for their money.
Every restaurant manager hopes to have good sales daily but there are days when the sales are high while there may be times when the sales are really low.
McDonald's is a fast food chain which is pretty famous all over the world for its mouth-watering food and what makes it more attractive for consumers is that it is not very costly as well. It is a good option for those who want to take their office team or friends for a party or treat and is also ideal for the business of the food outlet.
However, the staff at one of the McDonald's outlet in Australia was in for a shock when they got a huge order amounting to AUD 3,400 (Rs 1.86 lakh approx.). The details of the order were posted on Facebook by a staff member which left many stunned.
The order included 70 Angus Clubhouse burgers, 39 McFamily Boxes which has 234 burgers, 39 packs of 20 McNuggets, 69 large fries, 2 packets of small fries, a small Vanilla Coke (no ice) – and a Cheeseburger without pickles along with 100 drinks.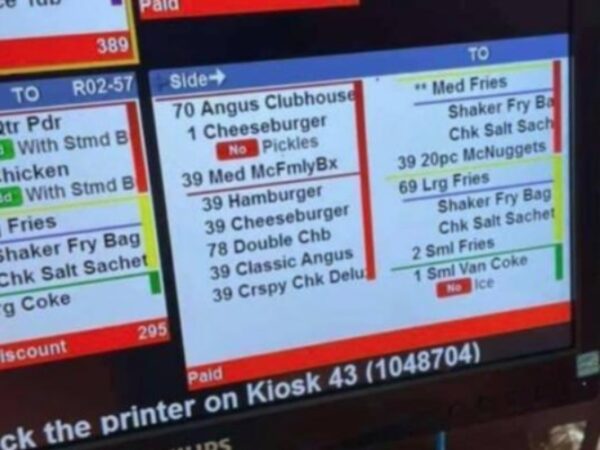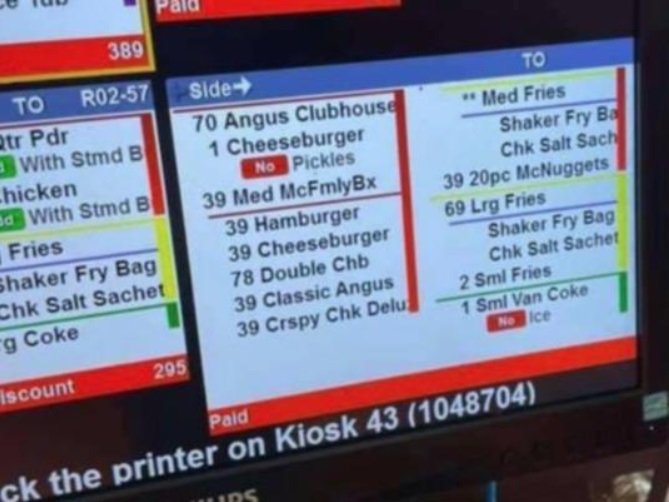 While the manager of the outlet must be pretty happy, the kitchen staff must have been pretty tired after having worked so much as they had to provide all the dishes at the same time considering the fact that everything should remain warm at the time of serving or delivering.
The staff should get one day off at least after such hectic work! What do you say?
Share Your Views In Comments Below