Entertainment
Mumbai Police Posted Tweet Inspired By Oscar Winner Indian Film 'Period', Netizens love it
Oscar 2019 was an outstanding ceremony to witness. Hollywood came together to appreciate and honor the best of this year. This year the ceremony was without a host but was with much more glitz and glamour and faithful appreciation for the most brilliant.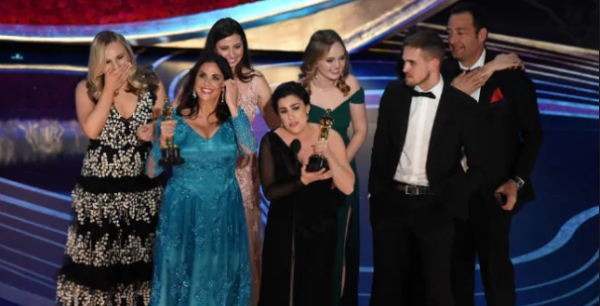 After, a short 25 minute documentary by Iranian-American director Rayka Zehtabchi won an Oscar in the Best Short Documentary category, people were astounded. Especially people from India was ecstatic.This documentary, Period.End of a Sentence produced by Guneet Mongna was set in India's Uttar Pradesh. It deals how rural women are dealing everyday with conventional menstrual taboos.
So,the Mumbai City Police understood the significance of this achievement and altered the film's poster to suite their own view of suggesting how they are working for the city people. Here check their tweet out.
If cities were given an Oscar, Mumbai would have bagged some of the trophies definitely ! #LoveTheCityWeServe #IfCitiesWonOscars pic.twitter.com/V9Zr5tDfTZ

— Mumbai Police (@MumbaiPolice) February 25, 2019
Mumbai city people promptly accepted the tweet and appreciated the hard work by their city police. Many offered suggestions and praised the works that the various departments have been doing. They even lauded the social media team, handling Mumbai City Police's Twitter Account.
#1
I agree. As a woman from Bombay and travelled across I believe mumbai police is prompt to help women and anyone in distress. Kudos to you champions

— Shaheena Attarwala (@RuthlessUx) February 25, 2019
#2
Just Ban the HORN #lovemumbai #oscarworthy #mumbai

— preettyyp✿ (@iPrettyouch) February 25, 2019
#3
@MumbaiPolice cases logging from '93 Bomb Blast and 26/11 to managing daily nuisances and ensuring the night peace, you people have been accomplishing the jobs worth appreciating.

Love from Dilli!

— Shanu Goel (@_ShanuGoel) February 25, 2019
#4
Best city of India in terms of security of Woman.

— SANJIB GHOSH (@sanjibghosh) February 25, 2019
#5
The Mumbai Police status: ACTIVE
Crime status: DETERRENCE
HAIL MUMBAI POLICE

— IAS (@AB73126307) February 25, 2019
#6
Proud Mumbaikar, Proud Indian

— Amit Mehta (@joy_amitmehta) February 25, 2019
#7
Great! I am proud to live in Mumbai it's so vibrant and happening and u know u are protected.

— Tones (@TonesInAction) February 25, 2019
#8
Both 'Whoever is managing this account' and Mumbai Police has great skills in making observations and connecting the dots. Great work ! 👍

— PickupDaddy (@pritalking) February 25, 2019
#9
First of thanks to Mumbai police we are very safe here while traveling. Problem with footpath is that people use it for their personal use they make small shops there so we have to walk in middle of road because vehicals are there footpath is full of shops please do your best

— Sushma Dubey (@SushmaDubey12) February 25, 2019
#10
@guneetm @sikhyaent Congratulations !

Proud of both of you all and the Mumbai police !! 👏🏻👏🏻👏🏻👏🏻👏🏻

— Srinivasan Bala (@srini_bala) February 25, 2019
#11
Yes every week or – month news of corrupt officials appeared. Because of few dishonest working officials good work is side lined. Dismiss corrupt officials & severe punishments to be given

— Aloo se Sona (@aloosesona) February 25, 2019
#12
Best Police Force in the country. Proud of you @MumbaiPolice

— Alhad Apte (@Alhad009) February 25, 2019
So, what are your views on this?
Share Your Views In Comments Below