News
Muslim Man Offered Namaz At A Gurdwara. Twitterati Is Loving The Video
India is one country which is the best example of religious harmony and balance. Despite all the testing times our country and people have faced, several religions co-exist with mutual love, respect and understanding here.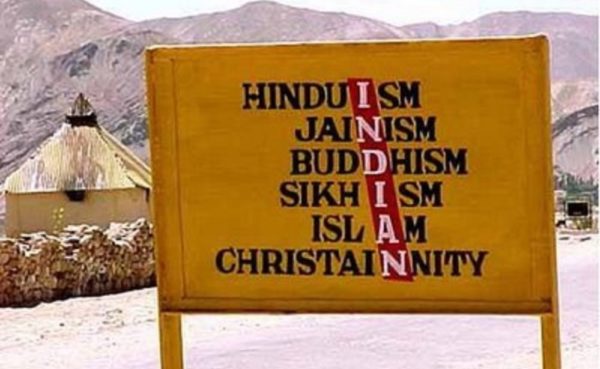 This example that India has set is now going far from boundaries and other countries are also following the culture of mutual co-existence and even raising the bar to an extent.
A video from the inside of Gurdwara Sahib Bercham in Ipoh, Malaysia is going viral on the social media. The special thing about the said video is that a Muslim guy is seen praying namaz while Gurbani is being sung at the Gurdwara.
This video is setting a great example of mutual love and co-existence, something that is the basic guideline of every religion. Everyplace in this world is the home of God. When people can live and perform their duties together in the world then they can perform their prayers together also. And there's no better time and example to understand the fact than this. Watch the video-
A muslim guy spotted doing Namaz in Gurdwara Sahib because he couldn't find a mosque and dropped by at Gurdwara Sahib to complete his Namaz. Good thing Nobody including Gurudwara Sahib committee member stopped him . pic.twitter.com/d0slZNDAuW

— शिvam (@Oye_Protein) August 24, 2018
Click Here to watch the video directly on Twitter-
Here's how Twitterati reacted to it-
#1
He is preaching the same thing as well
"Sarb dharm meh sresth dharm, har ka naam jap nirmal karm"

Kise nu maada changa kehna sadda kam ni hai, sarb sanjhi valta ehi te hai!!

— Param (@Panjabisailor) August 24, 2018
#2
Good morning, watching this has really brought me peace this Morning, I think it's beautiful. Gurdwara's are a place for peaceful mind, good thoughts, love everyone and this proves a point. Thanks for sharing. 🙏🏽

— Archie. D (@devesher) August 25, 2018
#3
Excellent. That is the real meaning of religion. Namaz during Shabad.

— Suresh Sharma (@scsharma333) August 25, 2018
#4
I just love the Sikhs. Tussi great ho!

— Jo Chopra McGowan (@JoChopra) August 25, 2018
#5
hats off 😭😭😭 this is wat tolerance is all about …..

— Asif Bhat (@asiffbhat31) August 25, 2018
#6
Gurudwara always welcomes everyone, no matter race or religion. God is one.

— simmi (@SimmiGirn) August 25, 2018
#7
Baba de mehr hova baba de kher hova🤗

— mAJiD (@mAJiDLaHoREwALa) August 25, 2018
#8
Loved the video 😍 such harmony is needed across the religions.

— Muhammad Mansoor (@alchemist_786) August 25, 2018
Isn't that amazing?
Share Your Views In Comments Below