News
News Anchor Heavily Slammed For Laughing While Reporting About Bagmati River Floods
In the present times, we have a huge number of news channels to watch in order to know what is happening not just in our country but all around the world as well. However, seriousness in journalism has taken a backseat as the majority of news channels prefer to sensationalise the news rather than presenting the true picture in front of viewers.
The style of presenting the news has also become quite dramatic nowadays, if you remember, even before Chandrayaan-3 landed on the Moon, our news anchors were seen reporting about India's Moon mission while standing on the Moon with the help of graphics. There have also been a good number of instances in which news channels have made us laugh rather than making us think about the problems present around us.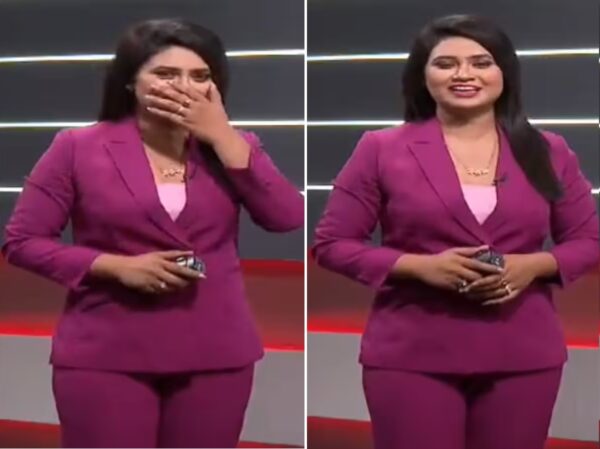 However, recently a news anchor got slammed heavily after she was found laughing while reading the news of Bagmati floods. These floods have resulted in the problem of waterlogging in Darbhanga and adjoining areas and many people are suffering because of it. The news anchor is basically from Bihar and she is employed in a media house based in Jharkhand.
An X (formerly Twitter) account posted a video clip in which the news anchor was seen laughing while reading the news of Bagmati floods and he captioned it as, "कोई बता सकता है इतनी ख़ुशी किसके लिये?" (Can anybody tell why she is so happy?)
कोई बता सकता है इतनी ख़ुशी किसके लिये? 😁 pic.twitter.com/QjipNgJNaI

— SANJAY TRIPATHI (@sanjayjourno) September 14, 2023
Soon Twitterati reacted and here are some selected tweets:
Yahi to parde ke peechhe ki bat hoti h jo aam janta ko nhi dikh rahi h thanks social media

— Office Worck (@OWorck) September 14, 2023
@sanjayjourno दरभंगा का नाम लेते ही हंसी आ गई एंकर को एंकर सोचने लगी यह वही दरभंगा है जहां AIIMS का निर्माण @narendramodi कराए थे 😂

— 🎓🧑‍🎓 (@B__agi) September 14, 2023
या तो दिमाग मे कोई पुरानी बात घूम रही है या इस खबर मे कुछ द्विअर्थी समझ मे आ रहा हो इन्हे ….

एक पत्रकार के लिए दोनों अवस्था अवनति है

— Badnam Shayar (@BadnamShayar1) September 14, 2023
नेपाल से पानी छोड़ने की बात पर हसीं आई है 😂😂

— Shravan Kumar (@shrawankumar192) September 14, 2023
मधुबनी और दरभंगा में बाढ़ के पानी के बढ़ने के कारण जन जीवन अस्त व्यस्त हो रहा और ऐसी घटना का जिक्र कर हँसी आना ये संवेदनहीनता की निशानी है ।
सॉरी लेकिन एक ट्रेंड न्यूज रीडर से इस प्रकार की गलती की उम्मीद नही रखती हूं 🙏

— श्रुति ठाकुर (@Shrutithakur_IN) September 14, 2023
I.N.D.I.A. boycott anchors wali list me naam nahi hoga na inka😄😜

— आशुतोष मिश्र (@Mishrashu230126) September 14, 2023
इस एंकर को चैनल मालिक से कोई पुराना हिसाब क्लियर करना था इसलिए आज उसने बाढ़ जैसी गम्भीर खबर पर हंसकर,मजाक करते हुए न्यूज़ पढ़ी। इससे न्यूज चैनल की सेहत पर बुरा असर पड़ेगा यह बात एंकर को बखूबी पता थी, साथ ही चैनल मलिक का भट्टा भी बैठ जाने के आसार हैं।

— गौरव शुक्ल ਗੌਰਵ ਸ਼ੁਕਲਾ🇮🇳 (@Gaurav_ddk) September 14, 2023
What is your reaction on this act of the news presenter? Do let us know.