News
News Debate Panelist Starts Dancing For Attention On Live TV When She Didn't Get To Speak
Earlier before the advent of satellite television, there used to be only one channel, i.e., Doordarshan and the maximum time of news bulletin used to be around 30 minutes but in the present times, there are numerous news channels which telecast news all day. However if you watch regularly, these news channels show one news many times in a day and then they also conduct debates on those issues.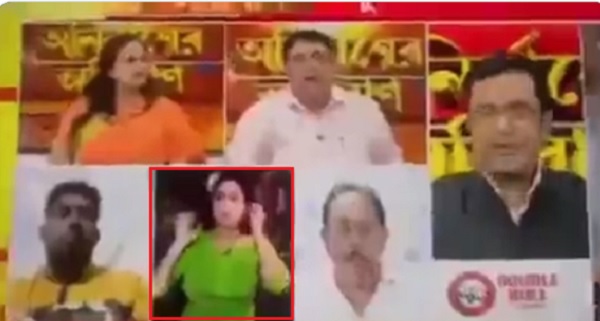 Some guests are also invited on the debate but not everyone gets the chance to speak properly as the host of the show keeps on interrupting everyone without giving them proper time to speak out their opinion. One bigger problem with news debate is that there are many panelists who shout and scream on the top of their voices and don't let the other panelists speak properly.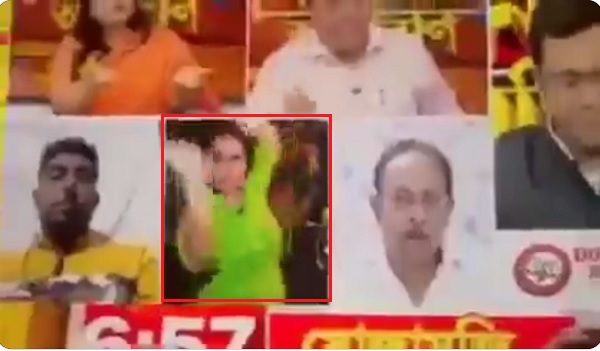 A video of a news debate is going viral nowadays in which a female panelist gets so frustrated after not getting a chance to speak that she starts dancing, making weird faces, etc. to attract attention of the news anchor.
Here is the video, just focus on the female panelist wearing green dress:
See what the participant in green kurti does when not given a fair chance to speak! 😂😂😂 pic.twitter.com/M58kKkbpxB

— Elizabeth (@Elizatweetz) January 16, 2022
Click to watch this video directly on Twitter
Soon many Twitter users started reacting & here are some of the selected tweets:
#1
😂😂😂These news Channel anchors should have common sense to listen to the people whom invite to the debate. People like Barknab poses a question even before the other person finishes the answer for the first question. https://t.co/FM3FCfxRqa

— Брат (@58Believ) January 16, 2022
#2
Oo soldriya mama oo oo soldriya mama. Savage!

— Allan Keith Noah Logan (@ComradeAKN) January 16, 2022
#3
— Joysun_Dsouza✋ (@DsouzaJoysun) January 16, 2022
#4
— Silver Lining (@wolverinehealz) January 18, 2022
#5
Debate Natyam 😂 https://t.co/pLjezcflFa

— ABHIJIT 🤚 (@Abhijit14683348) January 16, 2022
#6
Killer!!! 😂 She knows how to get noticed.

— Juhi J. (@JuhiJ3) January 18, 2022
#7
Very innovative 😂😂👌🏾 https://t.co/2ROQOI5t0f

— Amol Manthalkar – अमोल मंठाळकर (@manthalkaramol) January 17, 2022
#8
🤣🤣🤣🤣🤣🤣🤣🤣🤣🤣🤣 https://t.co/hUyKwnLQQc pic.twitter.com/wZjkrLr7L1

— Adil INC ( Being Human) (@Adil_INC_) January 16, 2022
#9
Kya tha yeh 🤣🤣🤣🤣

— Iqbal Shaikh (@Allama_lqbal) January 16, 2022
#10
Epic! Which news channel? Looks like R.

— Rizwan Ahmed 🇮🇳 (@im_RAhmed) January 16, 2022
There is no denying the fact that a lot has been happening in the world and these news channels are making us aware of whatever is taking place around the globe but it is also true that they sensationalize news unnecessary.
Do let us know what you think of the actions of the woman. Pretty funny, isn't it?
Share Your Views In Comments Below