News
Pak Cafe Owners Mock Manager For Not Speaking Fluent English, Apologise After Online Slamming
There is no denying the fact that hard work and determination are quite important when it comes to achieving success in job or business but in some cases, knowledge of a particular language also plays a significant role. However it is also true that nobody has the right to make fun of another person just because he doesn't have the knowledge of a particular language.
A video is going viral on the Internet and social media which shows the owners of a Pakistani café making fun of their manager who has been working with them for the last nine years just because he is not able to speak fluently in English.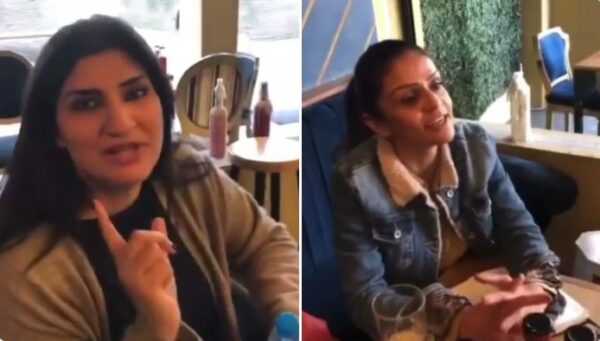 We are talking about the café which is known as Cannoli By Café Soul that is in Islamabad. The owners of this café are Uzma Chaudary and Dia Haider and in a video which was posted by them on the café's Instagram handle, they are heard making fun of their café manager Owais who has been with them since the start of the café.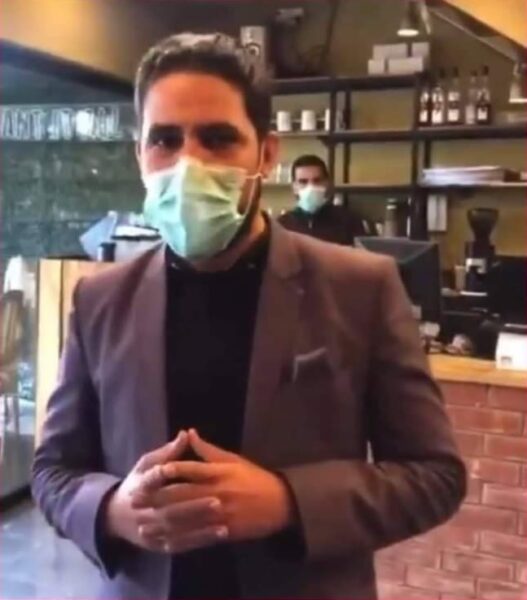 In the video, one of the owners is heard saying,
"So, this is our manager who has been with us for nine years. And this is the beautiful English he speaks. This is what we paid for… and a very good salary, mind you."
The video has been deleted from the Instagram handle after people slammed them for making fun of Owais but it found its way to the micro-blogging site Twitter as a leading Pakistan daily posted it on its Twitter handle and people left no stone unturned in trolling the two owners for their pathetic behaviour.
First of all, watch the video:
A video purportedly showing the owners of a high-end restaurant in Islamabad giving a dressing down to the manager of the establishment for his inability to speak in #English has gone #viral. pic.twitter.com/rgS7ibk1pf

— The Express Tribune (@etribune) January 20, 2021
Click here to watch this video directly on Twitter
Twitter users were also angry because the owners were not following the COVID-19 protocols while the manager was following the safety guidelines in a proper manner. Soon people started trending #BoycottCannoli and here are some of the selected reactions:
#1
Guarantee you these women would LOVE my horrible Urdu while they mock a working man who speaks multiple languages.

— Jeremy McLellan (@JeremyMcLellan) January 21, 2021
#2
Maybe they have…gora-navirus

— Jeremy McLellan (@JeremyMcLellan) January 21, 2021
#3
Re: #BoycottCannoliIslamabad #BoycottCannoli

It's good to see many ppl supporting the manager of Cannoli. I hope someone offers him a better job.

Women struggle in many ways, so it's truly sad to see 'empowered' women treat one of their loyal employees of 9 years this way. https://t.co/aAAQHI1Siq

— Cynthia D. Ritchie (@CynthiaDRitchie) January 21, 2021
#4
English is just a language, not a parameter for measuring your intelligence. So if you don't know English, it's okay. That doesn't undermine your intellectual faculties.

تف ہے ایسے لوگوں پر جو پیسہ آنے پر اخلاق و مقام کھو دیتے ہیں۔ اللہ نے برحق فرمایا کہ دولت ایک آزمائش ہے!

— Muhammad Hammad (@ItsMDHAMMAD) January 21, 2021
#5
To the female owners of Cannoli who filmed this man Awais and made FUN of his English, this is called WORKPLACE HARASSMENT and what you two privileged BURGERS did is the most DISGUSTING thing. ENGLISH IS NOT THE MEASURE OF INTELLIGENCE!!!!#BoycottCannoli pic.twitter.com/LLuqUUONiI

— Amber Khurshid Raja (@AmberKhurshid_) January 21, 2021
#6
May be I am overthinking this but I think some of us would boycott this place (as its the easiest thing to do). But the first one to suffer from this would be their staff. A better but not the easiest way would be to help their staff find another job & then boycott the place.

— nonconformist (@dejectedmemon) January 20, 2021
#7
Some deciding to boycott this place. Don't do that. The manager will face. Rather go there & give 5 star to this employee. He managed this Restaurant without knowing English. He deserves applause.

— Parveen Kaswan, IFS (@ParveenKaswan) January 21, 2021
#8
Disgusting and shameful!
what a sick mentality, I think language is just a way of communication. However, in different country, speaking Eng makes you feel elite or a kind of superior than others. English is just a language not to define how capable someone is. #BoycottCannoli pic.twitter.com/bA7XmyQB1D

— Robert Winston (@ImRobertWin) January 21, 2021
#9
Dear restaurant owner kindness is the best language, a universal language, behtar hai aap bhi seekh len!! 🙄

— Syeda Bushra Iqbal🇵🇰 (@SBushraIqbal) January 21, 2021
#10
Sustay angraiz pic.twitter.com/9oCh7Z0elA

— WAJID SIRAJ (@snwszh) January 21, 2021
#11
A language can be learnt. Decency and empathy can't. Pls convey my msg to these ladies : "hatt!"
And to the brother: "You've managed your workplace for a decade despite not being as privileged as the owners. Great job. When the fools talk,say words of peace & ignore."

— فلک کہکشاں (@Falak_Kahkashan) January 21, 2021
#12
This stems from hatred and contempt for poor.

Full respect to this man who knew he was humiliated and had the option to shut these two disdainful up, but he chose his family over his ego.

Many make this choice every day.

— میمونہ خٹک (@Memuna_Khattak) January 20, 2021
#13
Both these aunties may speak fluent English but portrays third class mannerism, he is doing a manager's job not an English literature professor's job … angreezi ka sath thoori tameez bhi sekh lateen auntie 🧟‍♀️🧟‍♀️

— Ayesha Syed (@Guddloo) January 20, 2021
#14
Owais looks more educated then these ladies. He is in mask and following SOP.
He has been running the restaurant for 9 years with the same language and making money for your inferiority complexed souls. Shame on you low lifes.#BoycottCannoli #Shameful pic.twitter.com/rtG9xG4XOw

— Ali (@Survivor994) January 21, 2021
#15
It's not English country where you need to speak English. Staff just need to take your order. When you go to Europe. Most of the restaurant's staff don't know English. These pure evil ladies are abusing this gentleman

— Salman khalid (@Awesomesalman1) January 21, 2021
The owners of the café did realize their mistake and issued an apology if they have offended anyone; however they also cited that it was a normal chit chat between them and their employees and there was no intention of hurting anyone.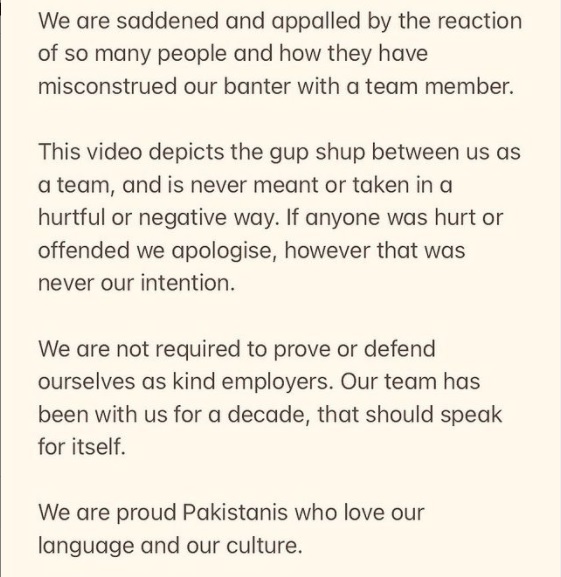 Here is the post:
What do you think of this conversation? Do let us know.
Share Your Views In Comments Below