News
Pakistan PM Imran Khan Wished The Hindu Community On Holi, But Twitterati Slammed Him Brutally .
Today is Holi, the festival of colors and merriment.A joyous occasion, rejuvenating with immense happiness and laughter. People all over is busy smearing each other with bright colors and wishing a harmonious togetherness all along.
On this joyous occasion, Pakistan Prime Minister Imran Khan sent good wishes to the Hindu community residing in his state, through his official Twitter handle. Even prominent Pakistan leader Bilawal Bhutto Zardari also took to Twitter to wish them a happy Holi.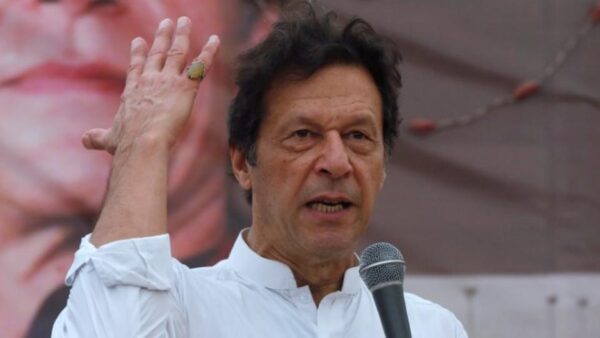 Though many are of the opinion that this has been done to express solidarity and love towards the Hindu community, amidst the escalating political and military tension between India and Pakistan.
#1
Wishing our Hindu community a very happy and peaceful Holi, the festival of colours.

— Imran Khan (@ImranKhanPTI) March 20, 2019
#2
Happy Holi to all my Hindu brothers & sisters. On the happy occasion of Holi, let us spread the wonderful massage of peace and happiness. pic.twitter.com/4Gg8blgjJX

— BilawalBhuttoZardari (@BBhuttoZardari) March 20, 2019
When Pakistani leaders were trying to show solidarity with one of their community, better termed as minority in their country, Twitterati agreed not to go along with them. According to people the Hindu community is suffering in Pakistan and so wishing them specifically on their own religious occasion is just not the only way to spread peace and harmony.
Here are some comments, which clearly shows how offended they are with Pakistan PM Imran Khan's specific wish for the Hindu community only.
#1
Only 10-12 Hindus are left in Pakistan … you could have DM them directly

— 💂 Rishi Bagree 🇮🇳 (@rishibagree) March 20, 2019
#2
Difference b/w India & Pakistan …👇 pic.twitter.com/PNy3BSmC4l

— Rohan Rajput🇮🇳 (@RohTweetS_47) March 20, 2019
#3
Start by letting them be ALIVE and continue being HINDU

— Chowkidar Punita Toraskar 🇮🇳⛳️ (@impuni) March 21, 2019
#4
Mr Imran Khan….wishes only for YOUR hindu community??
Trust you to find ways and means to get India Pak acrimony even on the days of a festival. Have some shame sir and hand over perpetrators of terror attacks on India and pls keep ur bigoted views to yourself.

BTW HAPPY HOLI.

— 🇮🇳Jay Sanan🇮🇳 (@JaySanan16) March 20, 2019
#5
Jitne bache hai woh saare ek whatsapp group mein fit aa jayenge. Add karde aur udhar wish karde

— fixer babu bisleri (@PUNchayatiii) March 20, 2019
#6
Holi is a festival of colours
Which is message of brotherhood across religion or community.@ImranKhanPTI this tweet of yours is in bad taste.
We can't hope a sport person turned politician will divide community as Hindu or Muslims
Happy Holi to all human beings

— ANJANAK…….Mission Make India Democracy Again (@AsYouNotLove) March 21, 2019
#7
Imran Khan: We do a lot for our minorities.

World: Like?

IK: Wish them Happy Holi on Twitter

— Vishesh Arora (@vishesharora19) March 20, 2019
#8
Saare #Hindus ko to maar diya tumhare #Pakistan ki #jihadi qaum ne ab aur kaun se #hinduwo ko ye #Holi ki shubhkamnaye de rhe ho??
Apne desh ke hinduwo ko jihadiyo se safe rakhne ki koshish karna ho sake to.
Khair apko bhi #Holi ki shubhkamnaye..#Holi2019https://t.co/pCkcpKSNbk

— Nilesh pandey (@nileshpandey699) March 20, 2019
#9
Hindus do not need your fake wishes. Just look at how Hindu population has shrinked in Pak since decades. You have butchered and pushed them to an edge. Shame on Pakistan for Hindu genocide!

— Chowkidar Devika (@Dayweekaa) March 20, 2019
#10
How many Hindus were there in time of partition in 1947

Now, How many Hindus left in your country #Pakistan

Answer @ImranKhanPTI@narendramodi @PMOIndia @RahulGandhi @priyankagandhi @INCIndia @ZeeNewsHindi @aajtak @ZeeNews @News18India @sudhirchaudhary @awasthis @sardanarohit pic.twitter.com/EFhmmRGvOF

— Chowkidar Sandeep Inde (@sandiipinde) March 21, 2019
So, what is your opinion on this?
Share Your Views In Comments Below