Humour
Pakistani Minister Hilariously Trolled For Praising The Pilot's Presence Of Mind
The word troll has become a favourite word of the youth and the netizens. Every social media user has been trolled at least once by the online trolls. And if you're a public figure trolling is just part of your life isn't it. Celebrities, big shots often fall prey to the social media trolls.
Lately, the Pakistani ministers are getting hilariously trolled by the netizens on Twitter for their variations of a tweet. Recently, a Pakistani anchor went viral for mixing tech Apple Inc with the fruit 'apple' during a live conversation. The panellist on the show was analysing the financial position of the company with the current economic position of Pakistan.
Now, a Pakistani politician Khurram Nawaz Gandapur has been trolled for praising a pilot's skill on a Twitter video. Well, it was an animated video from the gamer video that turned out to be an animated one from the popular video game Grand Theft Auto V.

The Pakistani politician wrote, Narrow escape of an aircraft which could have ended in a great disaster. Miraculous save by pilot's presence of mind. As the video showed a commercial aircraft taking off inches away from an oil tanker that was right in the middle of the runway. Gandapur, believing it to be a real-life incident.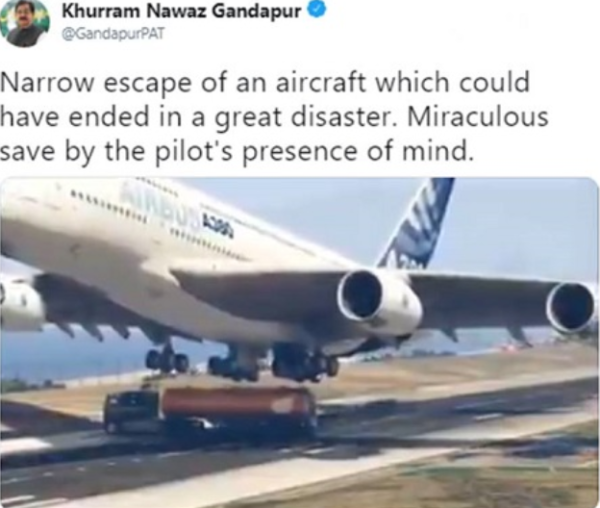 See how netizens reacted to it:
#1
When you are not used to play GTA or other games or watch movies with good Grpahics 😂 https://t.co/yhXSEoYpRd

— Edwin Antony (@edwinantonys) July 7, 2019
#2
So this guy really did share a GTA 5 video montage praising the pilot . Brilliant Gandapur Sahb 😂 https://t.co/Rhs1t3IvrT

— Muhammad Usman (@us_man6697) July 7, 2019
#3
credit to gta v creators

— Ali Ghaffar (@AliGhaffarNMU) July 7, 2019
#4
Maybe wha PlayStation ni hota hoga 😅

— Samisfit (@mr_shotcut) July 8, 2019
#5
Deleted

— Ashish Mali (@ashishmali28) July 8, 2019
The tweet was later deleted!
Share Your Views In Comments Below