Entertainment
Pre Release Reviews Of 2.0 Suggest That It Will Be A Blockbuster. Good News For Fans
Shankar's sci-fi film 2.0 starring Superstar Rajinikanth and Akshay Kumar is finally releasing on 29th November and there's a huge excitement among the audience. The film has been in making for a long time and has made the people wait way too much.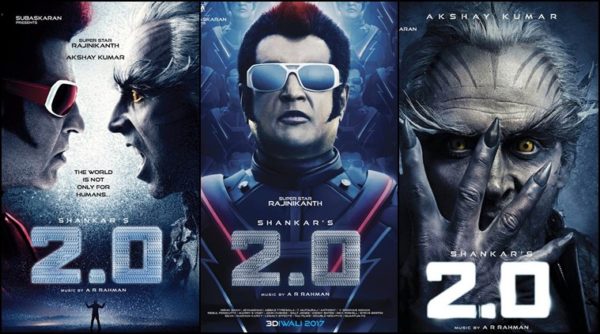 Now that it's just 4 days away from the release, the fans are going crazy.
2.0 has been made on a budget of 550 crores approx which is highest ever for an Indian film. The release size of the film is also going to be the biggest ever and therefore one can only imagine the kind of opening it's going to take. The advance reports are huge already and it's being said that it's likely to surpass Bahubali.
Before the official release of the film, a few distributors and exhibitors have got a chance to watch 2.0 and they have loved it. The fans of Rajinikanth and Akshay Kumar will love the fact that film has garnered some great pre-release reviews from the industry insiders and that's a really positive sign.
#1
#2point0 film inside reports are MINDBLOWING . Get ready for BAAP of action commercial film with solid content.

— Sumit kadel (@SumitkadeI) November 23, 2018
#2
#2Point0 Review!!!!
First On NET!!!!
Watched the first half in the distributors special screening!!!
i challenge you that if it will released as dubbed into english!
it will surely Destroys the world Box office.ultimate content and shankar screenplay is ultimate!!Seatedgethriller

— Chitti (@Cinemapodiyan) November 21, 2018
#3
Distributors in Hindi Trade who have seen a glimpse (few scenes) of #2Point0 are raving about the movie.. The movie will be a sure-shot.. Hindi screen-count to go up.. pic.twitter.com/tUrQXTovH1

— Ramesh Bala (@rameshlaus) November 23, 2018
#4
OMG! #2Point0 what a movie! What a movie guys! Speechless.

— Ajay Sinha (@AjaySin24715560) November 18, 2018
#5
Perfectly crafted with top notch background score and acting. This will make you love Akshay Kumar. What a amazing he is. He's hero of the movie for me. Absolutely stunned by his acting. #2Point0

— Ajay Sinha (@AjaySin24715560) November 18, 2018
#6
Absolutely wonderful Villain. Shankar's creativity at it's best. Rajinikanth was also good but Akshay overshadowed him. Amy jackson was also good. #2Point0

— Ajay Sinha (@AjaySin24715560) November 18, 2018
#7
Hats off to Shankar!! Thank you sir for making this kind of movie that too in India. The only movie for which India will be proud of! From acting to screenplay to visuals to vfx to direction everything was first class. #2Point0

— Ajay Sinha (@AjaySin24715560) November 18, 2018
#8
This movie will & should work. Though this movie will be only masala action kind of movie for few people but that's okay. We're opening indore advance of the movie from next Thursday! Must watch #2Point0

— Ajay Sinha (@AjaySin24715560) November 18, 2018
#9
All distributer are saying #2point0 is the baap of all action movies

— Raajali (@Raajali2point0) November 24, 2018
Now that makes us really excited for the film.