News
Pulwama Tragedy: Ranveer Singh, Alia Bhatt & Others Raise Their Voice Against This Shameful Act.
On the day when everyone everywhere was celebrating love over hate, we witnessed one of the shameful act of terrorism which turned 14th February into a day of extreme sadness.
India was shrouded in unbearable pain as we lost many of our brave hearts yesterday. An SUV which was carrying more than 350kgs of explosives rammed into a CRPF convoy taking lives of more than forty of our jawans and left many critically injured.
Later, Pakistan based group Jaish-e-Mohammed (JeM) took full responsibility of this attack which left our entire nation angry, heartbroken and under immense grief.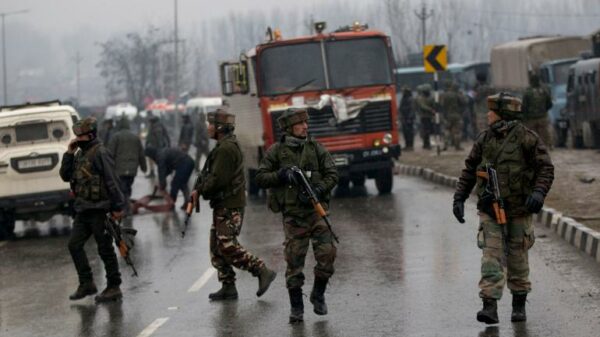 The SUV was driven by Aadil Ahmad, a terrorist who is known by the Commando of Gundibagh. Right before this act of cowardice a video surfaced where Adil confessed with immense pride that he wanted to do this for a very long time.
The nation lost jawans who were there protecting us when we were celebrating the day of love. The tears are unstoppable and the condolences are with the families who lost their everything. Bollywood celebrities condemned this severe act of terrorism by stating it as shameful, shocking and reprehensible.
#1
Disgusted at the cowardly terror attack on the #CRPF soldiers in #Pulwama – my sincere condolences to the families of our brave jawans. Saddened. Angry.

— Ranveer Singh (@RanveerOfficial) February 14, 2019
#2
Absolutely shocked by the attack in #Pulwama…Hate is NEVER the answer!!! Strength to the families of the martyred jawans and the CRPF soldiers injured in the attack.

— PRIYANKA (@priyankachopra) February 14, 2019
#3
My heart goes out for the Jawans of our beloved country and their families who lost their lives as martyrs to save our families… #YouStandForIndia

— Salman Khan (@BeingSalmanKhan) February 14, 2019
#4
The Pulwama attack is despicable. My heartfelt condolences to the families of the martyrs. I pray for the recovery of the injured.

— Alia Bhatt (@aliaa08) February 14, 2019
#5
Numb beyond belief at the dastardly terror attack on #CRPF soldiers in #Pulwama. May God give peace to their souls, and strength to their grieving families. Wishing the injured a speedy recovery. We can't let this be forgotten.

— Akshay Kumar (@akshaykumar) February 14, 2019
#6
Feeling extremely sad and angry. More than 40 @crpfindia jawans martyred. Millions of thoughts in my mind. I hope The govt. deals with the terrorists befittingly. Also time for certain people in our own country who criticise the army to SHUT UP. pic.twitter.com/mZSgExsxQJ

— Anupam Kher (@AnupamPKher) February 14, 2019
#7
Shameful shocking reprehensible . Absolute act of cowardice. Perpetrators of this heinous crime cannot be be friends with people of Kashmir. We stand by the bereaved families.

— Rishi Kapoor (@chintskap) February 14, 2019
#8
Shameful! Tragic & shocking. Jaish-e-Mohammed has brazenly & shamelessly claimed responsibility. These monsters have no soul, no humanity. Pure evil! Why does this terrorist group have safe haven in #Pakistan ? @ImranKhanPTI RIP our brave soldiers, strength to bereaved families. https://t.co/p3vteVL23K

— Swara Bhasker (@ReallySwara) February 14, 2019
#9
It is extremely painful to read about the attack on our brave #CRPF jawans in #Pulwama. My deepest condolences to the families and loved ones of our martyred soldiers.

— Anushka Sharma (@AnushkaSharma) February 14, 2019
#10
Saddened & Shocked to hear of the cowardly attack on our #CRPFJawans in #Pulwama my heart goes out to their families…

— Arjun Kapoor (@arjunk26) February 14, 2019
#11
Just learnt of the horrific and cowardly terror attack in Pulwama. Disgusted and saddened.
United in grief with families of the CRPF jawans who lost their lives. My deepest condolences to them.

— Farhan Akhtar (@FarOutAkhtar) February 14, 2019
#12
Heartbreaking & devastatingly shocking. To resort to such measures & kill people. Praying for the families of our hero soldiers who lost their lives #PulwamaAttack

— Shraddha (@ShraddhaKapoor) February 14, 2019
#13
Shocked and deeply saddened. My condolences and strength to the families of the CRPF soldiers in #Pulwama

— Ayushmann Khurrana (@ayushmannk) February 14, 2019
#14
Will there be no let to these heinous attacks?These mindless killings.this utter disregard for human lives?Extremely shocking news coming from Pulwama.I strongly condemn the worst terror attack on CRPF convoy and stand united with the grieving families

— Azmi Shabana (@AzmiShabana) February 14, 2019
#15
My deepest thoughts and prayers are with the victims of the Pulwama attacks and their families.

— Karan Johar (@karanjohar) February 14, 2019
#16
Deeply saddened and shocked to hear the news of the terror attack in #Pulwama . My heart goes out to the families of the brave CRPF soldiers we lost today and praying for the speedy recovery of those injured. 🙏

— Vicky Kaushal (@vickykaushal09) February 14, 2019
#17
Such terrible news coming from #Pulwama. Today when people are celebrating love, hate raises it's ugly head too. My thoughts and prayers for the martyrs and their families.

— Abhishek Bachchan (@juniorbachchan) February 14, 2019
#18
Horrible and disgusting. Anger can't be put into words. #KashmirTerrorAttack

— Ajay Devgn (@ajaydevgn) February 14, 2019
#19
I have a special relation with CRPF. I have written Their anthem Before putting the pen to paper I met a number of CRPF officers n what ever I learned my respect admiration and love for these braves increased by many a fold Today I share the grief of the dear ones of the martyrs

— Javed Akhtar (@Javedakhtarjadu) February 14, 2019
#20
#Pulwama Who are these people who are celebrating a win after this dastardly and cowardly attack..is just condemning this enough..wipe out not just their smiles but their faces.. show us our revenge, instill dismay and dread with the retaliation.🇮🇳

— Ranganathan Madhavan (@ActorMadhavan) February 14, 2019
May be god above is trying to figure out how on earth by his name terrorism is gaining momentum when it shouldn't definitely have.
Share Your Views In Comments Below