Bollywood & TV
Sansa Stark And GoT Jokes Trend On Twitter As Sophie Turner Danced At Nickyanka's Wedding
Indian fans of Sophie Turner who plays Sansa Stark in Game of Thrones were in for a treat as she visited here for Nickyanka's wedding. Sophie is the fiancee of Nick Jonas' brother Joe Jonas so she was very much a part of the Jonas family who travelled all the way from the US to India for the grand wedding.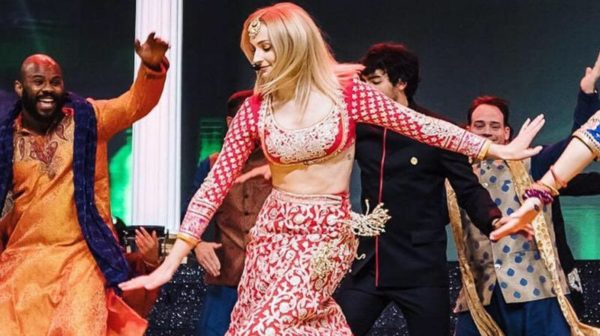 The officially released wedding pictures of Nickyanka featured Sophie wearing the traditional Indian dress which looked beautiful on her. A picture also showed her dancing and burning the stage with her steps. Sophie looked breathtaking in the picture.
While it was a treat for the fans of Sophie to see her in Desi avatar, some of them cracked hilarious jokes bringing in the centre the Sansa Stark connection. Have a look at some of them-
#1
Pic 1: Sansa
Pic 2: Sansa-kari pic.twitter.com/AEyLGeZ8PF

— 𝕭𝖆𝖍𝖆𝖉𝖚𝖗 (@my2bit) December 4, 2018
#2
Dear @SophieT lady Sansa, in case if you don't knw, the english translation of RAJASTHAN (state of India) is kingslanding 👑 🤴 🤣 💕 from India!! @GOT7Official @TheGOTFans pic.twitter.com/ss3g2sIqJm

— Rahul H (@RahulDreamss) December 4, 2018
#3
Sansa Stark ( @SophieT ) dancing on Bollywood song in @priyankachopra and @nickjonas 's wedding….
What kinda crossover is this..?? 😜
I love it 😍😍👍🏻#GameOfThrones pic.twitter.com/MsE2SXeE7B

— Rohit Mehta (@mehtarohit9912) December 4, 2018
#4
Sansa stark seen dancing to bollywood song after watching Ramsay Bolton die.#Gameofthrones #PriyankaChopra #NickJonas #SophieTurner #PriyankaKiShaadi pic.twitter.com/lrQXEZq7A4

— Anurag (@__ak57__) December 2, 2018
#5
#sansa after finally killing Lord Baelish!😂#sansastark #SophieTurner #NickyankaWedding #GameOfThrones pic.twitter.com/ZVfVLDi2mr

— Hemant Bhojwani (@Hemant_Bhojwani) December 3, 2018
#6
Who knew that Sansa Stark will be dancing to Desi Girl one day. Damn

— Sajid Manzur (@sajid_manzur) December 3, 2018
#7
Sansa Stark has no idea that english translation of RAJASTHAN is KINGSLANDING😨😨@ikpsgill1 @sagarcasm @BhaavnaArora @moronhumor @Kuptaan @Babu_Bhaiyaa pic.twitter.com/YkIZ14tiBz

— Prakash Sharma (@praka_sharma) December 2, 2018
#8
The happiest Sansa Stark will ever look at a wedding #NickyankaWedding pic.twitter.com/Zbg6m8swCn

— Shreemi Verma (@shreemiverma) December 1, 2018
#9
Sansa finally attending the 'Red Wedding' #sorrynotsorry #couldnotstopmyself #gameofthrones pic.twitter.com/NWA3OT0yPe

— Abhishek Anicca (@gumnaam_musafir) December 4, 2018
#10
Sansa dancing on Ramsay's grave https://t.co/RS8d1V3z69

— Œ (@waffflewitch) December 4, 2018
Isn't it hilarious? What's your take on Sophie's dance?
Share Your Views In Comments Below