News
'Say No To War' Is Trending On Twitter, Both Indians And Pakistanis Are Now Asking For Peace
On 14th February, a Pakistani militant group, Jaish-e-Mohammed attacked a convoy carrying CRPF jawans. Over 44 jawans were martyred in the incident, which left the country in a state of mourning.
The IAF avenged the Pulwama tragedy yesterday, by crossing the LoC and bombing the JeM and LeT training camps across the border. In 19 minutes, the training camps had been completely obliterated.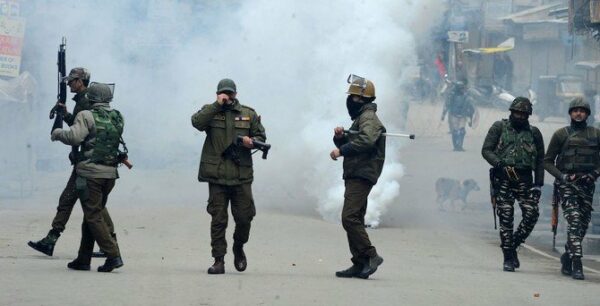 You would think that this would have ended the hostilities between the two nations, but clearly, this was only the beginning.News reports of aerial engagements have been flooding in, and currently, we are aware that Pakistan has taken down one of India's fighter jets. One pilot, Abhinandan, is missing in action.
War mongers and keyboard warriors on social media have been demanding war on Pakistan. But most are failing to realise the actual cost of war. One country cannot simply declare war on the other.
However, as these tensions keep mounting between India and Pakistan, civilians in both nations are scared for their lives and would do anything to call a truce.
Soon after news of combat started flowing in, "#SayNoToWar" began trending on Twitter. Not just Indians, but even Pakistanis have been tweeting the same.
Check it out here:
#1
Soldiers die, Their Families suffer !
Not the politicians who calls for war!
Think about it ! #SayNoToWar#PeaceNotWar pic.twitter.com/MTtePlzDKW

— Khatik Rizwan (@riz1ahamed) February 27, 2019
#2
Other side of the picture of two nuclear powers.#SayNoToWar pic.twitter.com/35TfEBYHkN

— Afsar/Ayas (@Afsar_Ayas) February 27, 2019
#3
Not going to post the video, but the way a Pakistani soldier held severely injured Indian pilot's hand while asking him to stay calm was the most touching moment. This bond of #Humanity that unites us must win. #SayNotoWar

— S Malaika Raza (@MalaikaSRaza) February 27, 2019
#4
Wow!! Just look at the airspace shut down on the borders of India and Pakistan is giving me chills. It's scary and it's getting real every second. #SayNoToWar #India #Pakistan pic.twitter.com/6Y8JECmr2E

— Tanmay Chouhan (@TANinMAY) February 27, 2019
#5
Don't celebrate war .#SayNoToWar

— Manaswini Satapathy (@satmanaswini) February 27, 2019
#6
Stop the Madness Before it Get too Late … #SayNoToWar #Peace

— Annum Xahra Naqvi (@Numzeeee) February 27, 2019
#7
No matter what you say, have seen so many Pakistanis speak same sentiment today across social media.

Yeh dooriyan sirf siyasi hain. #SayNoToWar https://t.co/yVMztHeIM2

— richa singh (@richa_singh) February 27, 2019
#8
I hope captured IAF Pilot, Wing Commander Abhinandan is taken care as POW according to the Geneva Conventions & handed over to India just as captured Flight Lieutenant K Nachiketa (pictured) was handed over back after 8 days during Kargil War. Hope sense prevails. #SayNoToWar pic.twitter.com/L21gpSwhcR

— Rehman Siddiq (@RehmanSid) February 27, 2019
#9
Yesterday, I started a hashtag #SayNoToWar and I so happy to know that is trending. I am thankful who took this little effort forward. We are together in this. #SayNoToWar

— Sagrika Kissu (@SagrikaKissu) February 27, 2019
#10
You can start a WAR but you cant Stop it.
Ask How painful it can be from the Family members of those Soldiers who were martyred.#SayNoToWar pic.twitter.com/wqRIqcZAJS

— Bae Chara (@BeingShahman) February 27, 2019
#11
I as a citizen of Pakistan request my govt to treat the "captive" Indian pilot well and send him back ASAP as a gesture of peace. Come on Pakistan you can do this #SayNoToWar pic.twitter.com/t8goWxcEhy

— Azad Kashmir (@AzadKas71682540) February 27, 2019
#12
Enough with the trolls,memes and arguments without knowledge
If your family members were out there fighting,You might have a whole different take on war
Just look at the death range of these Great Wars, Is this really what we want
#SayNoToWar pic.twitter.com/tT9XienD7v

— Abdullah Badr (@abdullahbadr95) February 27, 2019
#13
#SayNoToWar Common DP!

Pls Stand with our soldiers and their families by changing your DPs!

WAR IS NOT A SOLUTION – SAY NO TO WAR 🙏 pic.twitter.com/aTW0yW0sYS

— Nathan (@Rationalizt) February 27, 2019
What is your take on this?
Share Your Views In Comments Below