Bollywood & TV
From Shah Rukh & Big B To Akshay & Deepika, Even Bollywood Superstars Are Superstitious
Everybody has their lucky colour or number as per their own experience or faith but sometimes people tend to feel that a particular act of theirs will increase the chances of their success. These weird belief or superstitions are prevalent in not just common public but also celebrities.
Here we are going to tell you about some weird superstitions of few top celebrities:
1. Shah Rukh Khan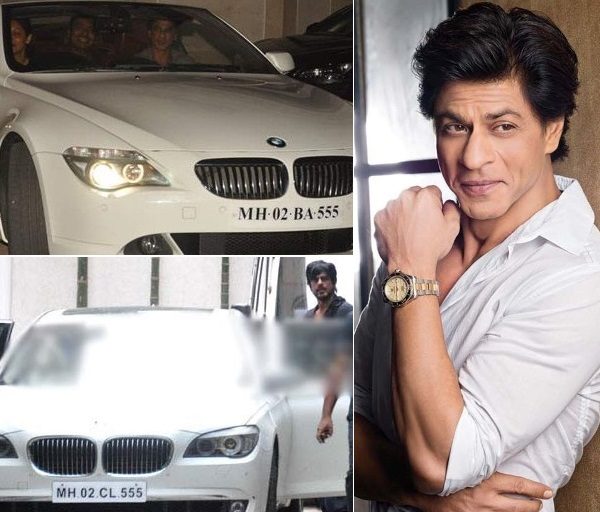 Shah Rukh Khan has an obsession with number 555 and the same is the reason that almost all his cars have this number. You might be surprised to know that even the bike that he rode in "Chennai Express" had 555 on its number plate.
2. Shilpa Shetty
The gorgeous actress Shilpa Shetty Kundra owns an IPL team Rajasthan Royals and makes sure that she wears two watches when important matches are being played. That's not all; she is also very particular about her sitting position. When her team bats, she opens her legs but when opposition starts batting, she crosses them.
3. Ajay Devgn
Ajay Devgn is not particularly superstitious; however on the wish of his mother, he removed letter A from his surname (If you remember, he used to write Devgan earlier). In the year 2008, his mom was advised by a numerologist that changing his name would change his career for better.
4. Katrina Kaif
Katrina Kaif visits holy shrine of Sufi saint Khwaja Moinuddin Chisti in Ajmer before the release of her movie. She did the same for "Ek Tha Tiger" and the rest is history.
5. Bipasha Basu
Bipasha is very conscious about the evil eye and doesn't forget to purchase lemon and chillies (Nimboo-Mirchi) every Saturday for hanging them in car. Her mom taught her this and she has been following it like a ritual.
6. Amitabh Bachchan
The legendary Bollywood actor Amitabh Bachchan also has his own reservations when it is about cricket. It's an open secret that Amitabh is a big fan of cricket and Indian cricket team and this will be known to anyone who follows his social media accounts. However, he avoids watching the live telecast of Indian team batting as he feels that it will result in dismissals of batsmen. He can also be seen wearing a sapphire ring which has brought good fortune to him after a bad phase.
7. Abhishek Bachchan
Junior B also has some superstitions attached with his two favourite sports – cricket and football. He doesn't change his position while sitting on a chair if a match is going on as he feels that if he changes position, it can affect the result of the match.
8. Akshay Kumar
Khiladi Kumar of Bollywood feels that his presence adversely affects the earnings of his movies and that's why prior to his film's release, he flies abroad so that his flicks earn good on the box-office. Weird, isn't it?
9. Vidya Balan
The talented actress Vidya Balan has an obsession with kajal and that too from a particular brand. You won't see Vidya going out of her house without applying Pakistani brand of kohl which is known as Hashmi.
10. Deepika Padukone
Deepika Padukone, one of the top actresses of Bollywood who sometimes gets paid more than her male leading stars, has profound faith in Siddhi Vinayak. Whether before the release or after the success of the movie, Deepika never forgets to visit Siddhi Vinayak temple. Here it deserves to be mentioned that this Bollywood actress has maximum count of 100-crore movies.
Do you know about more such actors? Let us know.
Share Your Views In Comments Below