Videos
Someone Knitted With Noodles Instead Of Wool, Viral Video Made Netizens Go WTF
Knitting is one of the most popular and oldest arts of the world and it was pretty common for the women of the household to knit woolen sweaters for themselves and other members of the family. However in the present times, due to busy and hectic schedules, people have started buying readymade woolen sweaters and pullovers from the market.
The love for knitting has gained a little prominence during the times of the COVID-19 pandemic as people were forced to stay inside their houses and they wanted to do something constructive in this period. You must have seen eye-catching designs and beautiful patterns on the sweaters knitted by your mother or grandmother but have you ever heard of doing knitting noodles? Sounds unbelievable and strange but one person has actually done it and the video of the same is going viral on the Internet.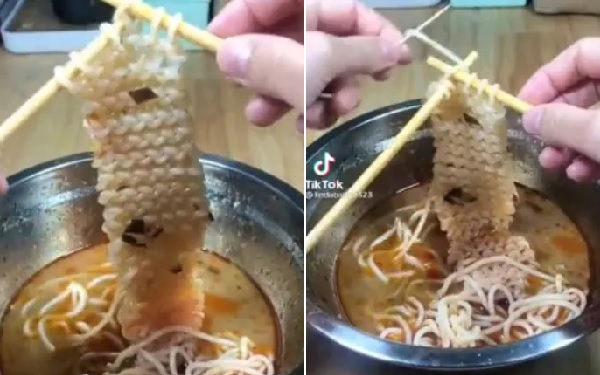 The clip was originally posted on the video sharing platform TikTok but now it is being shared on all other platforms including Twitter. It has been watched for over 7 million times on the micro-blogging site, has been retweeted for more than 82K times and has received above 379K likes.
Here is the video:
— ✧ (@mixiaoz) January 16, 2022
Click to watch this video directly on Twitter
Soon Twitter users started responding with their reactions and majority of them were not very happy with this art of knitting with noodle:
Make sure and take you time eating it. You don't wanna *scarf* it down.

— Saajid 🌿 (@musaho_books) January 17, 2022
Let them dry and harden up then put them back into a wrapper and nobody would know the difference

— Rainy Day Hero 🐸 Artist🎨 (@rainydayartist_) January 17, 2022
@LivCanStitch please stop doing this

— Pigeon | Commissions open (@ThePigeonShowTV) January 17, 2022
this makes me uncomfortable omg

— ʙᴇᴇᴢ (@smdduhh) January 18, 2022
This is real now pic.twitter.com/69Yyz6xw51

— Sleepyhead (@thes1eepyhead) January 16, 2022
If you ever knit my noodle I will take you out

— 😈WtfMalooo😈 (@MaloooWtf) January 17, 2022
There was another user who also posted a video of knitting with noodle in response:
— zebulon (@LiesZebulon) January 17, 2022
What is your reaction?